Local SEO explained is simply search engine optimization (SEO) for local searches — searches for businesses near or providing services to a given location. It helps the internet find matches that are truly accessible to them. No one hungry for donuts wants Google to tease them with donut shop search results located on the other side of the country.
Local SEO benefits businesses, too. It wouldn't help you that much to attract the attention of a few donut-lovers with no intention of ever visiting your bakery. Instead, you want Google to show your listing to potential customers right when they're ready to commit to sugary deliciousness.
It's vital to integrate local SEO into your digital marketing strategy. Help Google help you. You want the most precise matchmaking possible between you and searchers. You also want the most immediate results, and you'll show up sooner in local searches than you will in global searches for "French crullers." 
Here's a brief overview of the concept and how to take advantage of it.
How the Local Algorithm Works
Through endless refinements, Google has learned how to detect searches that have "local intent." It uses some obvious cues. For example, if you search for "hair salons near me," Google knows to take your geographical location into account. How else can it know what is and is not "near"?  
Maybe you're attending a wedding in Philadelphia and want to find a place to get styled before the event. Google also responds to the use of specific locations in your search terms, and a search of "hair salons in Philadelphia" will provide you with the results you need.
Where Google and other search engines really impress is in their ability to detect local intent even without overt location-related language. For example, if you search for "hair salons" without any modifiers, you'll still get a "local pack" with the top three local results marked on the map.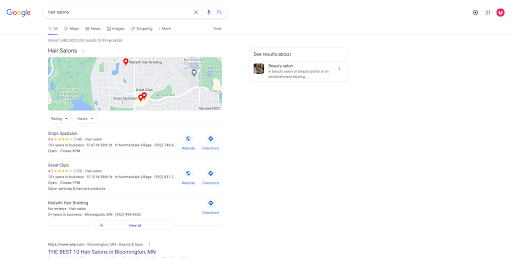 On the other hand, if you search for "hair styles," Google assumes no local intent behind the search. Correspondingly, no local pack. Instead, it foregrounds a carousel of images.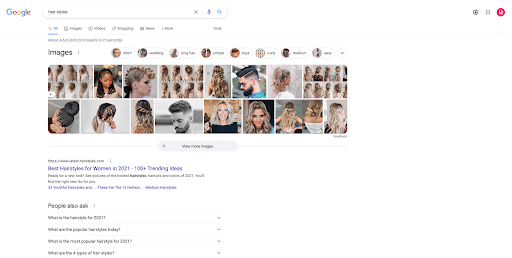 It's important to note that the local results lead to Google My Business (GMB) profiles rather than the business's own websites. Clicking on any of them will lead you to the salon's GMB listing, highlighted on a page that provides more local results.
How Google Ranks Local Search Results
But how does Google determine who gets to appear in the local pack? What factors go into the algorithm that ranks results? There are three main components: 
Distance:

How close are you to the searcher or the identified place?

Relevance:

How well does your business profile fit the searcher's probable intent?

Prominence:

How popular is your business online?
In other words, a business that primarily bills itself as a "barbershop" is unlikely to show up in your "hair salon" local pack. If you live in a major city, you also probably won't get results a half-hour away. Your next-door neighbor's teenager who cuts her friend's hair for a small fee and has a website for scheduling won't appear either.
The relative importance of the big three varies depending on the exact search terms used. For example, if you do include "near me" in your search for a hair salon, Google will value proximity more highly.
What Is Important for Local SEO
Having established that the three most important factors for local SEO are distance, relevance, and prominence, the question becomes how Google determines each of these for a given business.
Distance
First of all, your GMB profile is the single most important method of letting Google know your location. But you can do a couple of other things to remind the search engine that you're there.
Start by listing yourself in other relevant directories, ensuring that your business name, address, phone number, and website are correct across the board. Put yourself on Facebook, Apple Maps, Bing Places, Yelp, and any important industry-specific sites. 
Incorporate your business name, address, and phone number into every page of your website. You can accomplish this with ease by using a footer or header. More advanced developers can also experiment with the addition of structured data for local businesses.
Relevance
It's hard to overstate this: your business information must be current. This extends beyond your address and phone number. For example, time-based modifiers will make Google factor in your business hours. If someone searches for "donut shop open now," they clearly don't want to wait until tomorrow for that cruller.
And don't forget about those keywords — they matter for local SEO as well as general. Think about your offerings. What might a potential customer search? A florist will likely want to feature both "weddings" and "dozen roses" on their pages or blog.
Small businesses will also want to create some hyperlocal content: content with a low overall search volume but a relatively high number of searchers in your immediate area.
Prominence
Unless you happen to stumble on the next viral sensation, online visibility and authority take time. But one of the most important things you can do for local SEO is to request and respond to online reviews. Ask your customers to leave you reviews, preferably on Google, but any review site will help. 
Once those reviews start pouring in, don't just focus on the negative. Respond to pleased customers as well, thanking them for the review. It's not just good SEO — it's good manners.
How to Start Utilizing Local SEO for Your Business
Now that you've had local SEO explained, you're ready to start putting it into practice. Make local a part of your SEO strategy, and get your business up into the local pack at the top of the most relevant searches.
If you take away only one thing from this article, let it be this: it's vital to optimize your GMB profile and keep all your information up to date. You want to explicitly tell Google who, what, and where you are.
Let Redstitch help take it to the next level with a more comprehensive local SEO strategy, a key feature of our digital marketing plan.