When people search for your business on Google, what's the first thing they see? If they use the business name, that first impression is usually the Google Business Profile, a feature of Google My Business. It pops up on the results screen with all the data people might want about a new business — hours, contact information, consumer reviews, and more.
The Business Profile has brought Google reviews to a new prominence. Customers only have to click on the profile and scroll down to instantly see what people say about you — and how you respond.
What Is Google My Business?
Google My Business is a listing service that delivers at-a-glance business information on search results pages. It typically appears on the right side of the screen, as in this profile for a well-known Boston bookstore: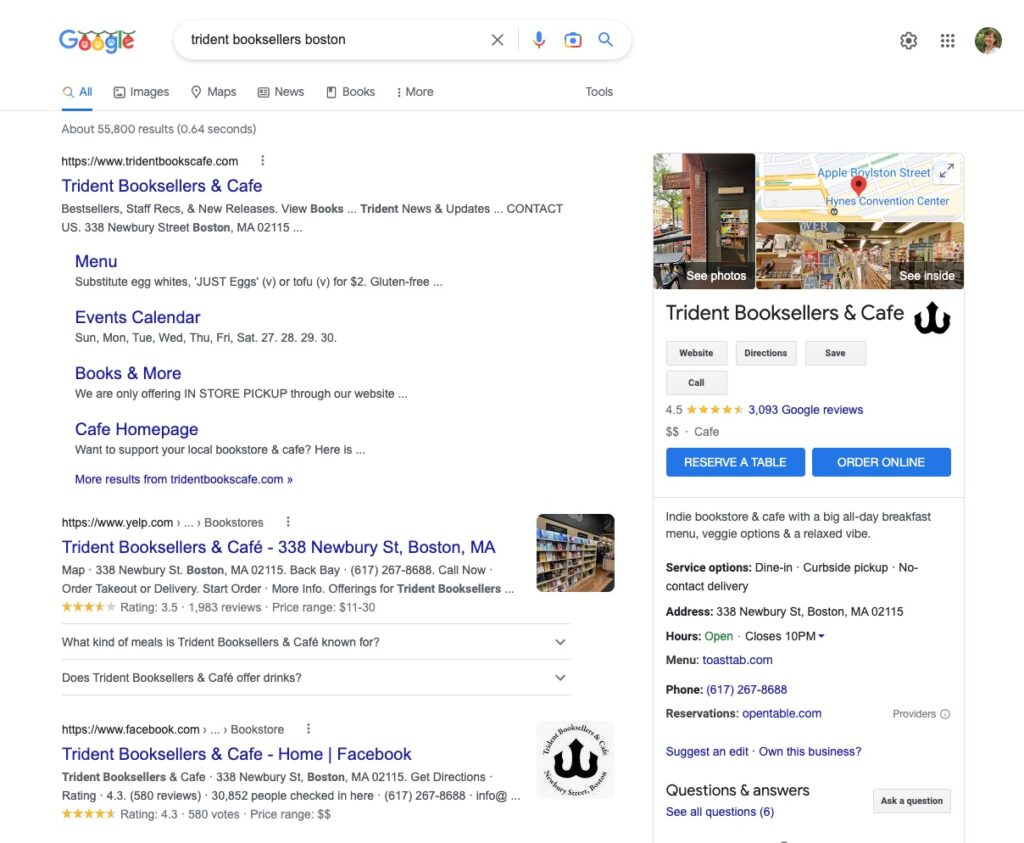 If you haven't claimed your Business Profile, Google populates it automatically with information harvested online — from your website, third-party review sites, and more.
Claiming your profile is essential to your online presence. Once you own your profile, you can use it to curate the image you present to searchers. Google review management is a vital part of that process.
What Are Google My Business Reviews?
According to BrightLocal's 2022 Consumer Review Survey, 98% of shoppers read online reviews for local businesses. Nearly 50% of respondents say they trust reviews as much as recommendations from family and friends, and 28% value them as much as expert-written articles.
Google is the most popular source for online reviews, with 81% of BrightLocal respondents saying they use it for that purpose. If you have an active Google My Business profile, you can manage your reviews and create a dialogue with your customers. Every Google Business Profile includes a section where consumers can read and write reviews.
Are Google Reviews Important?
People often ask if Google reviews help a business's rankings online. They do — both directly and indirectly.
"High-quality, positive reviews from your customers can improve your business visibility," wrote Google in its guide to improving local ranking. Praise shows Google algorithms — and human readers — that customers appreciate and trust your company.
Reputation and Ranking
Google aims to show users the highest-quality and most reliable information on the web. But, like human readers, it needs to trust you before including you in its recommendations.
People evaluate trustworthiness by listening to what others say about someone. For example, if all of your friends have something negative to say about the person you're dating, you start to worry. But if they rave about how charming the person is, you feel encouraged.
Google does the same thing. It looks at trusted sources to determine what people say about a company. When people leave positive reviews on trusted pages, Google sees you as more of an authority.
Reviews and Local Pack Ranking
Reviews also increase your chances of appearing in the Local Pack. The Local Pack, also called the Map Pack, is a featured section on Google's results page.
The Local Pack appears at the top of the page when someone searches with direct or implied local intent, like "accountant near me" or "hairdresser." For example, here's what the Map Pack looks like when you search for mechanics in San Diego, California: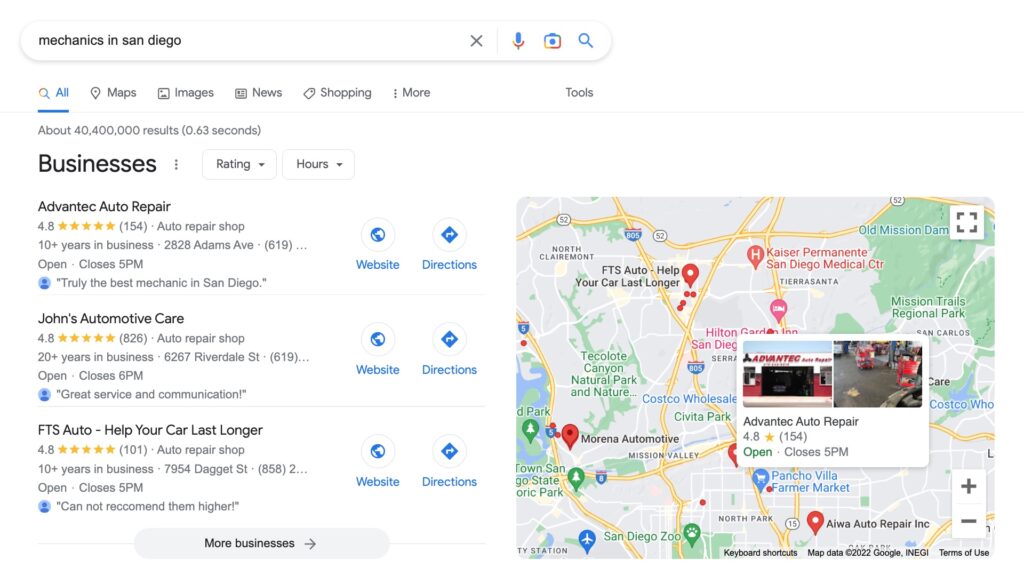 Notice that every featured business has a 4.8-star rating, glowing comments, and more than 100 Google reviews. The second result has over 800 reviews. That's no accident.
In 2021, SEMRush studied the effects of reviews and star ratings on Google's Local Pack. It found a strong connection between the number and quality of reviews and position within the Map Pack. Across more than 5,600 searches, featured businesses had a median of 28 reviews. High-review industries like food service had many more.
Featured businesses had an average rating of 4.43 stars across all positions. Review snippets were overwhelmingly positive or neutral, and only 2% had a negative tone. The more positive Google reviews you accumulate, the better your chances of ranking in the Map Pack.
Customer Trust
Human readers check your reviews to put themselves in your customers' shoes. They want to know if your other customers had good experiences and what went wrong, so they know if they're OK with any downsides.
Readers also check your star ratings. According to BrightLocal, most consumers prefer to buy from businesses with at least a four-star rating. When you have many strong Google reviews, people are more likely to choose your business.
How To Get More Google Reviews
Shoppers pay attention to the quality and quantity of your reviews. According to a recent study by BizRate Insights, more than 25% of survey respondents don't trust a rating until it has 11 to 50 reviews. Another 19% need to see 51 to 100 reviews.
It's a bit easier to get an SEO boost. One company crunched the numbers and found better ranking results when a company received just 10 reviews.
It's essential to pursue new reviews. According to BrightLocal, 26% of customers think reviews are relevant only if they're less than a month old. Another 22% need it to be less than two weeks old.
To bring in a steady stream of recent reviews, make a habit of requesting them. You might:
Ask customers in person when they buy
Include a link to your Google Business Profile on customer receipts
Create a QR code for your profile and include it in your digital marketing materials, with an invitation to leave a Google review
Send automated post-purchase thank you emails with review links
Get free review request materials using Google's Marketing Kit
Try these techniques and see what works for your business — or ask a local marketing agency for their recommendations.
Best Practices for Responding to Reviews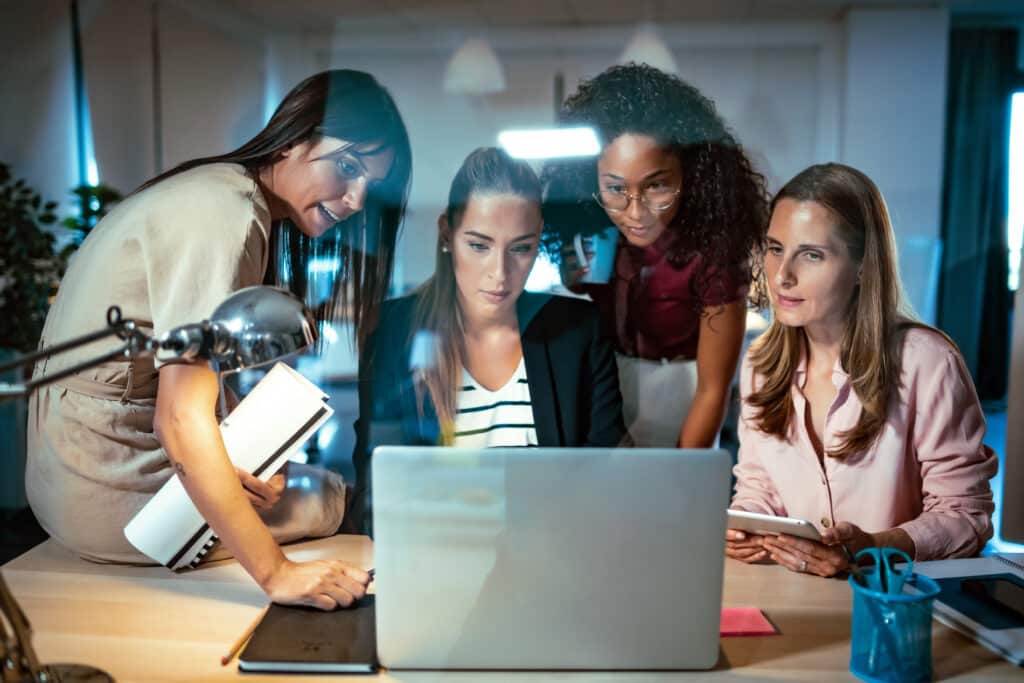 According to BrightLocal, 89% of customers are at least "fairly" likely to patronize a business that responds to all reviews, while 58% are unlikely to choose a company that doesn't respond to any.
Your responses are part of that all-important first impression. Here's how to make it a good one, whether or not the review is positive.
Respond Quickly
Customers want a quick response while the experience is still fresh. According to recent data, 53% of customers expect a review response within a week. A third of respondents want to hear back in three days or less.
The quicker your response, the more relevant it feels. If you're too late, they'll already have written you off.
Thank the Customer
Whether the review is positive or negative, the reviewer took time out of their day to leave it. Thank them for reaching out and sharing their thoughts — either for bringing a problem to your attention or offering a compliment.
Emphasize the Positive
If the review is positive or neutral — or a critical customer had something they loved — reinforce that complement. For example, "We're glad you loved our X" goes a long way. It focuses the reviewer's mind on what went well and highlights the compliment for the person reading your response.
Apologize and Accept Accountability
Always apologize for a negative experience, whether or not it was your fault. It's too easy to come across as defensive if you try to explain the situation or offer "your side" — no matter how politely you do it.
Instead, offer a simple apology for what happened. For example:
"Thank you so much for bringing this to our attention. We aim to provide an exceptional experience, and we're sorry we missed the mark."
"We're so sorry you had a disappointing experience with us. We take pride in showing our guests a great time, and we regret to hear we fell short of your expectations."
From there, you can move toward the positive.
Make It Right, Now or In the Future
Anyone can say, "I'm sorry." To convince customers you stand behind your services, offer to make things right.
If there's anything you can do differently in the future, mention it. For example, if you have a restaurant and the customer complains about mediocre ingredients, you might promise to investigate the issue and possibly look into other suppliers.
As always, only promise what you can deliver.
Take Negative Reviews "Outside"
If you're unsure how to improve the experience, invite the customer to contact you offline so you can work it out. For example, provide an email or phone number and ask them to get in touch, or ask them to send you a phone number so you can call them.
Your response might sound something like this:
"Carl, we're so sorry this happened to you! It's completely the opposite of our commitment to customer delight. But we want to make it right. Can you give us a call at XXX-XXX-XXXX? Ask for me personally."
These offline invitations are also ideal for customers with complex issues or complaints that require some explanation.
For instance, if your customer complains about a bill because they don't understand your billing policy, they won't appreciate having their confusion called out in a public forum.
Apologize for the frustration and work it out one-on-one. The customer will feel more comfortable, and you'll have a better chance of resolving the situation.
Be Specific
Customers will notice if all your responses look alike. Include at least one detail from the customer's review whenever you can. For example:
We're so glad Bill took good care of you!
We're sorry the chicken didn't meet your expectations.
Thank you for your kind words about our staff!
Specific references show that you read the review and took the time to respond personally.
Use Response Templates
Don't worry — you don't have to write every response from scratch! Consider creating a few response templates for your most frequent review types. Leave spaces to enter details and fill them in when you use that template.
Dealing With Fake Reviews
Fake reviews are a significant problem for consumers, businesses, and review sites. Of the respondents surveyed by BrightLocal, 62% believe they've seen a fake review in the past year, and 29% aren't sure. Just 9% don't think they've seen any.
People tend to be more suspicious of flowery or repetitive reviews, thanks to the media revealing that some big companies seek out reviewers-for-hire. You don't want people assuming this of your business, so you'll want to deal with those reviews.
Negative Google reviews are more directly harmful, especially if customers mistake them as genuine. 
Commenting
The quickest action you can take is to respond to a review and mark it as fake — but this only convinces about a quarter of respondents, according to BrightLocal.
Flagging for Removal
The more effective response is to flag the comment for removal. On your Google Business Profile, navigate to your reviews and find the one you want to flag.
From the drop-down list, select the reason for the flag. Google only removes reviews that violate at least one of its policies. Fake reviews may fall under one or more prohibited or restricted content categories, including:
Harassment: A review that uses violent or attacking language
Deceptive content: Reviews that don't accurately represent the product or service or aren't based on real experiences
Impersonation: A fake reviewer pretending to be a real customer
Misrepresentation: Falsifying or omitting information to influence another user's decision-making
Choose the policy violation that best describes the fake review. It may take several days for Google to respond.
Comment flagging can keep harmful and untrue information from reaching your target audience, but you have to flag each comment individually. A reputation management or review management service will save you a lot of time.
Mastering Google Reviews Helps You Grow
When you manage your online reviews well, it truly makes a difference to your digital marketing efforts. It boosts your reputation and lets you connect with your audiences. Still, review management takes time and attention. Having an in-house team managing your online reputation is the key to success. You focus on your customers' needs — and rightly so.
Consider hiring an outside agency like Redstitch to help you with a plan to gain more Google reviews and discuss a strategy for managing your online reputation. Schedule a 30-minute call today, and let us take on this critical task.