Doing business online can be overwhelming and confusing, but the right support makes all the difference. What will best help you navigate the virtual landscape: a digital agency or a branding agency?
Both agencies offer valuable services, but it's important to understand their differences before deciding. The best fit for you depends on your specific needs and goals. Do you need to create a brand identity? Or is lead generation your priority? If so, you probably want the advantage provided by the best-in-class digital marketing platform ConvertIQ.
This article explores the strengths and services of both digital and branding agencies, helping you make the best choice for your company.
Digital Agency vs. Branding Agency: Basic Definitions
Before going into specific offerings and nuances, let's establish some common vocabulary. Both digital agencies and branding agencies can benefit small businesses. Your company might use both over the course of your journey. The question isn't "which is inherently better?" (the answer is neither), but "which do you need to attain your current objectives?"
What Is a Digital Agency?
A digital agency focuses on promoting your brand online through various marketing channels. Its job might include everything from website design and development to social media marketing and email campaigns.
You should expect measurable results and clear improvements in your lead generation and conversion from a digital marketing agency.
What Is a Branding Agency?
On the other hand, a branding agency focuses on your brand identity. It develops or fine-tunes your messaging and style. This prepares your company to establish a strong presence — online or elsewhere — but doesn't itself guarantee the attention you deserve.
What About a Creative Agency?
The definition of a creative agency is a little looser. It covers a wide range of businesses, including advertising agencies and design firms. The scope of work can vary greatly from one agency to the next. Some prefer to focus on content creation, while others might privilege communication strategy.
Creative agencies might offer any combination of the following services: branded content, website design, copywriting, video ads, or event management. If considering one, make sure its catalog matches your needs.
Digital Agency Services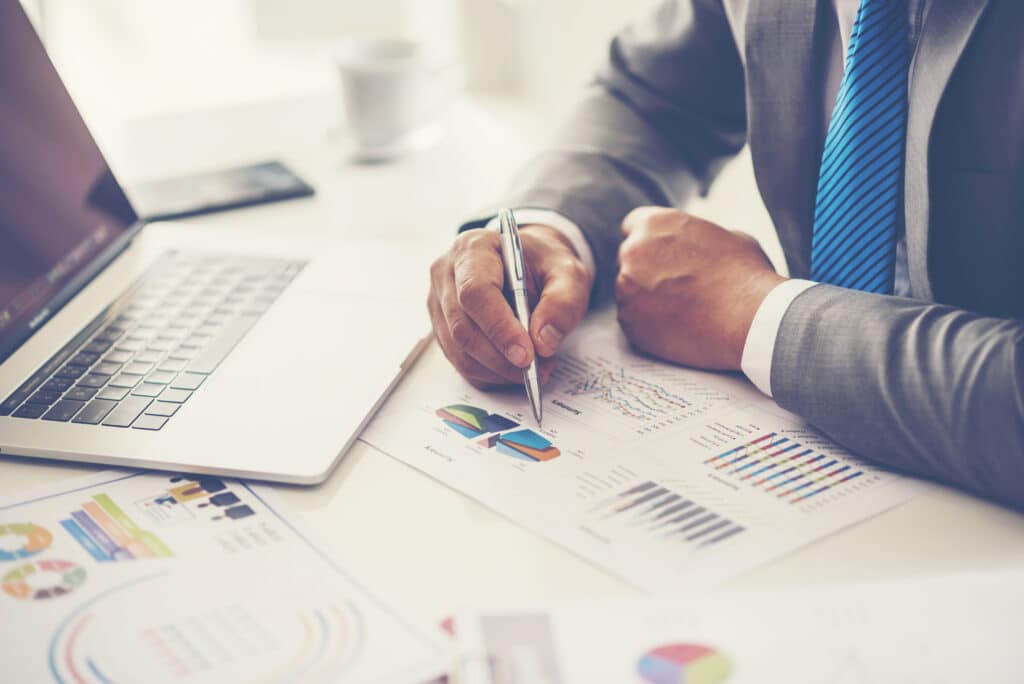 Many people wonder about the advantages of hiring an agency vs. keeping marketing in-house. While you maintain more control with in-house marketing, the right digital agency uses the latest tools and tactics to develop your digital presence and optimize conversions.
When evaluating a digital agency near you, ask questions about its specific services. You should also request references and discuss reporting practices. Open and honest communication will help you get the results you desire.
Analytics and Data-driven Campaigns
Digital agencies bring you more and better-qualified leads. They develop campaigns across various marketing channels to help you reach the right people at precisely the right time.
How do they do that? They pay attention to the numbers that matter. Sophisticated tools allow them to track current marketing campaigns and fine-tune strategies accordingly. By calculating the ongoing return on investment of marketing efforts, they can reallocate resources and ensure that clients get the most bang for their buck.
A digital marketing agency also tracks customer behavior. By understanding how users interact with a website or social media accounts, it can learn what engages audiences and drives conversions.
Redstitch can even automate intelligent responses to these analytics. AI is integral to the future of digital marketing, and ConvertIQ relies on it to speed up the marketing process and cut down on final costs.
Website Design and Development
Creating a professional website isn't easy. Sure, there are plenty of do-it-yourself web-building tools that promise easy success. But unless you have coding and design experience, you're likely to end up with an amateurish and outdated site.
That's where a digital agency can step in and provide the necessary expertise. In addition to generating a design that matches your brand identity, it lays out effective navigation pathways, integrates the latest software, and develops advanced functionalities that make your site easier to use.
Redstitch starts you off with a brand-new website, giving your digital growth the solid foundation it needs. You'll also get regular reports on website performance and traffic.
Digital Advertising
A digital agency may also offer services relating to the main forms of digital advertising:
Pay-per-click (PPC). These display ads are shown to your target demographics and placed at the top and sides of web pages. You pay for the ad only when someone clicks on it.
Paid search engine marketing (SEM). Ads on search engines that look like organic search engine results but are marked as sponsored listings.
Social media advertising. You can also sponsor posts on social media platforms, paying for the number of impressions generated (i.e., the number of people shown your ad).
Redstitch focuses on Google search ads, which provide the most highly qualified leads, so you can reach potential customers actively searching for what you offer.
Search Engine Optimization (SEO)
If you're a business owner, you know that being visible in search results is essential to attracting new customers. Around 65% of e-commerce sessions come from search traffic. Those sessions are divided evenly between organic and paid search results.
SEO is the practice of improving your website's ranking in organic search results. It includes elements such as keyword research, link building, and improved user experience. While paid ads provide a better immediate boost, SEO is your best strategy for long-term growth since its effect is cumulative.
Small businesses can also benefit from an emphasis on local SEO, which helps them appear in relevant searches in their area. These local searches make up a whopping 46% of Google searches. Claim these opportunities with a solid Google Business Profile, review management, local content, and other local SEO best practices.
Content Strategy and Creation
It's impossible to discuss SEO without bringing in content strategy and creation. One of the best ways to improve your performance in search results is to add the right content to your website.
At Redstitch, AI-powered SEO is part of the ConvertIQ platform. The AI finds patterns and market gaps, helping you identify new opportunities and improve existing pieces. It can monitor changing trends in real time, identify your brand's most successful forms of content, and tell you how to capture search keywords.
Whether you are creating blogs, videos, or social posts, strategic content increases your online footprint and establishes you as an authority in your industry. Earn customers' trust as well as their attention.
Social Media and Email Marketing
Some marketing strategies involve social media management and email services. Depending on your industry, these can be powerful tools for engaging with the right target audience.
Companies often use social media platforms to build their brand presence and cultivate relationships. As for email marketing services, you can use them to deliver timely messages tailored to the users' needs and preferences.
Redstitch puts lead generation at the heart of its digital agency and can set up your website to collect contact information and grow email lists. It doesn't handle clients' social media but is happy to provide recommendations if a client wants a dedicated social media service.
Omnichannel Marketing
Digital agencies can also help you develop synergy across engagements. Omnichannel marketing uses different channels (e.g., website, email, social media, mobile apps) to provide customers with a seamless journey and maximum convenience. For example, it might track a customer's engagement from their initial search to their subscription to an email list to an in-store purchase.
Omnichannel marketing is an effective approach that enables you to capture users' attention wherever they are and convert them into loyal customers.
Branding Agency Services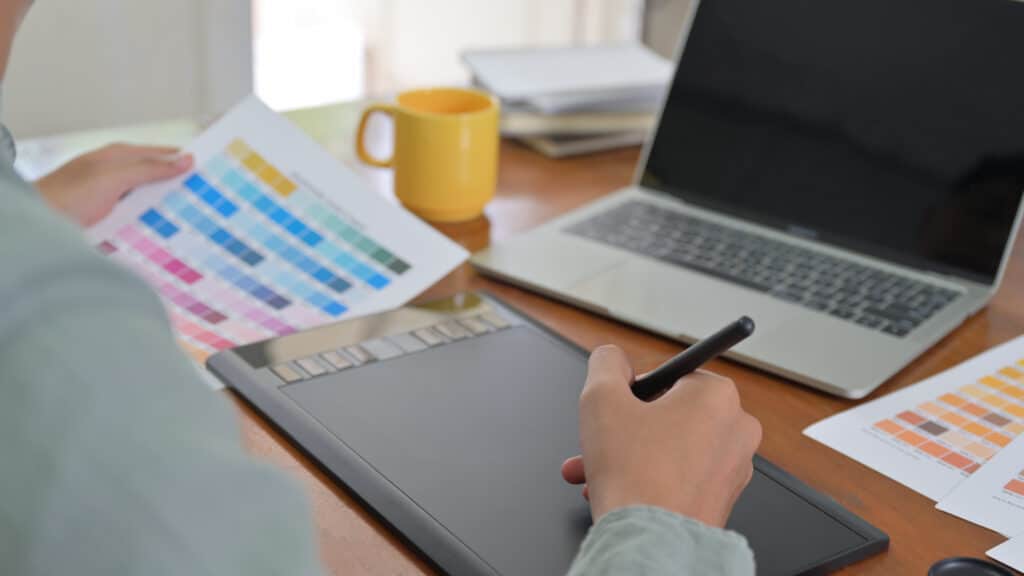 In today's competitive marketplace, having a strong brand is essential for any business that wants to succeed. Branding agencies help businesses maintain as well as build that strong brand. Unlike with the services of a digital agency, it is often difficult to measure the impact of good branding. Still, it plays a vital role in a business's overall success.
Brand Creation
A brand is more than just a logo or a name. It's the sum of your customers' experiences and interactions with your company. It sets you apart from your competitors and tells customers why they should choose you over them.
Branding agencies often start by getting to know your company inside and out. They learn about your history, your mission, and your values. They understand what makes you unique and what sets you apart from your competitors. Armed with this knowledge, they create a brand that reflects these things.
They develop a visual identity, including a logo and other design elements, and create messaging that articulates the brand's essence clearly and compellingly. Then, they come up with a strategy for how the brand will be used across all touchpoints, from websites and social media to marketing materials and product packaging.
Brand Guidelines
A brand style guide is an essential tool for any company and helps ensure that its communications are consistent. Unless it's starting from scratch, a branding agency usually begins developing one with a brand audit, in which the agency analyses the client's existing materials. From there, it will create guidelines covering everything from tone and voice to logo usage and color palette.
Once the style guide is complete, it can be used as a reference point for all future projects. It's a helpful document to have around — particularly when you hire out marketing tasks to people less intimately familiar with your company. If you don't yet have one, you may want to create your own document of brand guidelines instead of hiring an agency to develop a set for you.
Rebranding
Some businesses outgrow their original brand and need to update their positioning and style. These companies will profit from taking the time to refresh and bring their brand back in line with their goals and position.
But not everyone can afford a complete overhaul of their marketing materials and prefer a phased approach. In addition to updating your message and branded assets, an agency can help you find work with a timeline that makes sense for your company.
À la Carte Services
Branding agencies may also offer individual services. A business might come to a branding agency for help with any of the following:
Business or product naming
Customer persona development
Mission statement
Employee communication
For instance, a business may use a branding agency to design a striking logo or help optimize the layout of a physical store. Or they might ask it to create presentations, brochures, or other branded assets.
Is a Digital Agency Right for You?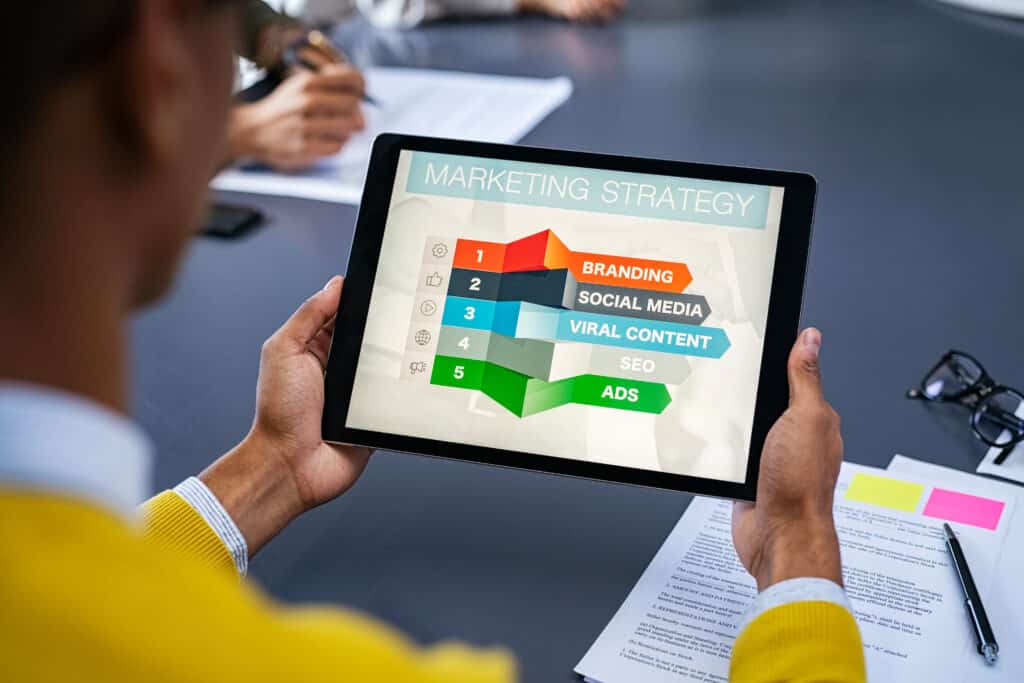 How ready are you for the world's attention? If you need to develop — or significantly change — branded assets such as a logo and mission statement, you may do better with a branding agency.
On the other hand, if you're camera-ready, then a digital agency is the way to go. While almost 70% of marketers believe in the importance of data-driven campaigns, only 26% feel confident in their ability to collect, evaluate, and use their data. Today's digital world requires unprecedented efficiency and expertise.
Provide yourself with a digital marketing platform that lets you leverage automated data collection and AI direction to grow quickly. With Redstitch's ConvertIQ, you'll gain a significant advantage over the competition.
Redstitch will elevate your brand — not create it. Its digital agency gets you the results that matter most to your operations. After all, no one ever said you had to play fair.