The right content strategy is essential to marketing your business. You need to create and distribute content that draws new customers to your business and reminds old ones why they value you. 
Without quality material, much of your digital marketing is an engine without fuel. Search engine optimization (SEO), email marketing, lead magnets, social media, blogs, video . . . all of these require content and direction.
The challenge comes in defining and focusing your brand's "content" — an incredibly imprecise and abstract term. Almost everything that you produce has an element of content. Even instruction manuals are content. That's why a strategy is vital.
Whether you're looking to revamp your current content strategy or create one for the first time, there are 10 elements to success. Tackle these essential components, and reap the benefits of a purposeful approach designed for your business.
1. Content Mission Statement
There are multiple possible benefits to content marketing. The very first step is to focus your efforts, identifying what you want to accomplish through your content. Later, you'll figure out more precise objectives and the metrics you'll use to measure them. But start with a bird's-eye view.
What do you want to achieve through your content? There are always more potential customers out there. What is keeping them from choosing your company right now?
Which of the following statements apply?
They don't know your company exists.

They don't realize your company provides a certain solution.

They don't trust your company to solve their problem.

They don't remember you at the moment of their decision-making.

They don't differentiate between your brand and competitors and go with the most convenient or most inexpensive solution.

They don't think of themselves as the type of person/business to use your product/service.
Pick a couple of these issues to focus on and start shaping your mission statement around them.
Examples:
X's content should increase brand visibility, contribute to SEO for Y keywords and expand brand awareness within Z community.

X's content should provide potential clients with valuable technical information, fostering long-term relationships within Y niche market.

X's content should address Y audience as well as Z, incorporating an untapped market without alienating the current one.
Even beyond the variables, these statements are all fairly vague. That's okay. Start with a rough draft. 
As you continue to move down this list, you'll revisit and reshape your content mission statement. You will be able to refine it with clearer images of your audience and the best content opportunities.
Think of your rough draft as a compass direction. Eventually, you'll figure out your exact destination. For now, it's enough to know that you need to be looking north or scouting territory to the west. 
2. Brand Persona and Guidelines
No matter your direction, your content strategy centers around your brand and the value that you provide. To that end, you need to develop a brand guide that helps you maintain focus, consistency, and quality across different content and producers.
How do you want people to respond to your brand? What's the desired "feel" of everything created under it?
Your guide should cover:
Company values and personality

Visuals: Logo, color palette, typeface, style 

Voice: Language, tone, point of view

Preferred platforms and any specific policies or best practices for them
Are you a whimsical but socially conscious fashion designer targeting a younger clientele in a breezy style that's inclusive and offers opportunities for spontaneous reflection? Or a well-established SaaS provider that prides itself on content that is both informative and accessible for a professional audience?
Write guidelines that will allow any member of your team to represent your brand appropriately and authentically. Your brand's persona should be so well-defined that creators can slip right into it.
3. Target Audience and Customer Personas
Knowing who's speaking is only half the battle. The other half is knowing who you want to listen to. Who are your customers? What gaps (if any) exist between your current portfolio of customer profiles and your ideal one?
Start by taking stock of your actual audience — your current customers, followers, or interested parties — and then branch out into ideal audiences.
You have resources available to help you better target your material.
Your Data
Look at the mass of data you already have. Pull as much information about your customers as you can from:
Website analytics 

Purchase history and trends

Lists of followers or subscribers

Surveys or other records
These tools should give you a picture of your customer demographics: age, income, location, profession, and family status. 
They'll also tell you what content has historically performed well, receiving the most attention and engagement.
And don't neglect your basic sales records. They can reveal retention rates and behavioral trends. What are your customers telling you about themselves through what they buy, when, and how often?
Their Voices
If you want them to listen to you, listen to them. Track brand mentions and monitor your social accounts diligently. Look at major consumer complaints. Solicit and study online reviews and other forms of feedback. 
And then investigate what else they're talking about. Follow your followers to understand their values and interests better. Add a better understanding of their psychographics — what and how they think — to the demographics you've collected.
What do they like, dislike, fear, or need? What motivates them? How would they describe themselves?
Your Imagination
Imagine your audience as a set of representative characters. Build on basic demographic profiles, and give them names, jobs, hobbies, and families. Have fun with it.
Then tell the stories of how these characters interact with your brand. Create customer journey maps that take these customers through all the potential touchpoints at which they contact you. What do they need at each of these waystations? What causes them to move forward, progressing towards their ultimate status as long and loyal customers?
The clarity of your vision can make a world of difference. Sometimes it can feel as though you're sending content out into the great online void. Instead, you can write for Margo, an eager young hospital executive who's determined to innovate customer relationship management.
4. Content Research and Analysis
It's time to factor in the current state of your business, your industry, and your competitors. If you want to position your content competitively, you need a complete understanding of both the field and the players.
Best Industry Platforms and Keywords
In addition to keeping an eye on emerging industry trends, you should reflect on the best distribution channels available to you. Where do people usually go for the kind of content you produce? Are there channels that are overcrowded or underlooked, places where a newer business can establish a foothold?
For example, Pinterest long dominated the field of wedding business social media. It's still the number-one platform for wedding-related material, but many planners have turned to Instagram for fresher ideas and content over the last couple of years. Vendors who caught on to this trend early were positioned to benefit from it the most.
You should also note major search terms related to your business, particularly any you don't already cover. Your list should include evergreen keywords as well as current crazes.
Competitor Content Research
First of all, recognize that content competitors include:
Market rivals

Influencers

Journalists

Anyone else generating material on your subject matter
A successful content strategy requires you to think about audience share as well as market share. 
That said, directly competing brands are a good place to start. Perform a competitor content analysis. Visit a rival's website and identify their top-performing pages and the keywords associated with them. Deconstruct their success. What makes these pages strong: great visuals, in-depth coverage, readability, embedded media? 
Plug these and any other keywords for which you want to rank into a search engine. What are the top results? What content creators do you have to consider in addition to your direct rivals? Keep an eye out for opportunities as well as threats. There might be sites with whom you might run cross-promotions based on a common interest.
Owned Content Analysis
Once you've looked without, it's time to look within. Use your research to reflect on your own content performance. 
Take stock of all owned media — blogs, social media accounts, videos, whitepapers, etc. Where have you had the most success? What pages have performed the best? Are there best practices you can steal from your competitors?
Mind the gaps, too. Are there pages you don't yet have but should? Material that needs to be updated with newer information? A channel in which you might invest more time and energy?
When you discover weaknesses, consider how you might leverage strengths in the right direction. For example, a continuing education company might realize it was losing ground to competitors more present on LinkedIn. Maybe the answer is to repurpose some of its blog's greatest hits as articles published on the platform. 
5. Content Positioning
You've heard all about the importance of positioning your brand within the market. What is the unique value that you contribute to what customers? 
But it's also important to think about your place within media and major conversations that impact your business. What are the topics you want to cover, and how can you position yourself within its respective library?
Consider Canva — one of the most popular graphic design tools around. Canva knows that many of its users are design-curious rather than design-savvy, and it positions its content as approachable but comprehensive.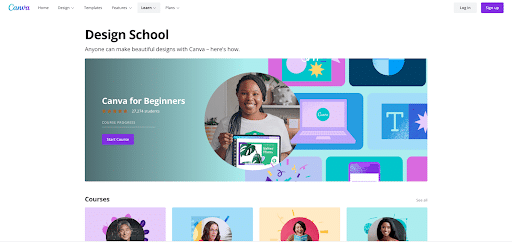 Canva's ads put its users front and center, underscoring the message that anyone can make beautiful designs. But perhaps the brand's biggest stroke of genius is its design school. With free courses, tutorials, and online events, Canva's content strategy revolves around hands-on, interactive material designed to empower its users.
6. SMART Marketing Objectives
You now have all the elements necessary to create more focused objectives for your content campaigns. Be SMART about it:
Specific 
Measurable
Achievable
Realistic
Time-based
Identify your most important channels — one of which will likely be your blog or some other content hosted on your webpage — and create goals for them. 
How are you going to measure success? The number of leads generated through long-form content? Number of website visitors per month? Search engine ranking?
Set your target using the proper metric and time frame, and make sure it's truly within reach. For example, unless you're already just one or two spots away, you're probably not going to jump to Google's first page for "weather" in the next month.
7. Creation Process
I'm sorry, but the "content fairy" is a myth. Churning out content takes time, energy, and skill. You need to establish who will be responsible for what, using which resources. 
Who?
Start with budget and staff. What's the available budget you can dedicate towards your content strategy? Which employees will participate, and how much of their time can go towards creation? Don't forget to account for their other responsibilities, which may include content distribution and analysis.
Inventory team strengths and competencies as well. You may not have someone who can create the infographics you envision. Or you may have exceptional talent when it comes to short tweets and video tutorials but no one with the experience to write the ebook you intend to use for lead generation.
What are you going to take care of in-house, and which member of your team will take charge of that responsibility? What (if anything) are you going to outsource? Are you going to use agencies or independent contractors — and who is going to manage them?
What?
Get more detailed about the forms and amounts of content you will generate for your campaigns. 
In setting objectives, you should have identified your most important channels. These are where you should focus your efforts and then build other content from them. 
For example, you may have a great podcast. You also have a Twitter account, but it isn't key to your content strategy. So use it to announce new podcast episodes, pulling your best quotations as teasers. And instead of creating blog pieces from scratch, post your carefully edited transcripts.
Which Resources?
What do you need to accomplish your goals? You may require specialized software or other tools. Or maybe you need access to a research library to develop an article or better reports to gauge the success of your efforts. Factor in these costs and make plans to get everything you need.
8. Content
You're probably not surprised to discover that an important element of a content marketing strategy is content.
Pick the topics you're going to cover, starting with the keywords that promise the highest yield. Continually reflect on the stories you're telling, the value you're providing, and the connections you're forming with your target audience.
For every piece of content, ask yourself what you want it to do: 
Elicit an emotional response? 
Lure former customers back to the fold? 
Solve a common pain point or answer a frequent question? 
Keep that purpose in mind as you craft the piece.
As you continue to develop your content library, refer to and link to other pieces, encouraging the visitor to spend some time exploring your site. You can also tag pieces in your own records with ideas for future updates and companion pieces. Note material particularly suited for extensive repurposing: items that lend themselves to revision and republication.
9. Content Calendar and Schedule
One of the reasons that content marketing can be daunting is the pressure to produce more, more, more. Take a breath, and remember that having the right content is more important than having masses of content.
That said, a strong content strategy will require you to publish regularly across multiple channels. Schedule regular contributions, prioritizing your main channels, and fill in everything else where you can.
Many people prefer to create in batches and spread distribution over time, which works particularly well for evergreen content.  
There are also tools available to help you schedule social media posts ahead of time. You can use them to ensure you don't forget to advertise your latest blog article on Instagram or Facebook, setting these posts to publish automatically.
10. Review and Refresh
Your content strategy isn't static. You should continually return to it, reviewing the past and making plans for the future. New opportunities and new search terms will arise. You'll also learn along the way as campaigns over or underperform. 
If creativity is one of the hallmarks of a great marketer, another one is adaptability. Be ready to pivot both individual pieces and full campaigns as needed. Review data and reports for solid evidence on what works.
To truly optimize your performance, supplement your own insights with artificial intelligence to get better and faster information. Redstitch's digital marketing plans offer customers professional expertise as well as AI-enhanced audits designed to reveal deficits and opportunities in your current content. This allows you to take the right action at the right time.
In this increasingly digital world, the best content strategy unites the best of human creativity with the best of AI sophistication and thoroughness.