Everyone is online these days: businesses, customers, and competitors. There's no question that you need a strong digital marketing plan to keep your brand relevant to your audience, but how do you build that plan?
A digital marketing strategy is not just one or two ads to put the word out about your company. Often it is a complex mixture of different digital marketing tools and tactics that best represent your brand and reach the right people at the right time.
7 Ingredients for Building a Results-focused Digital Marketing Plan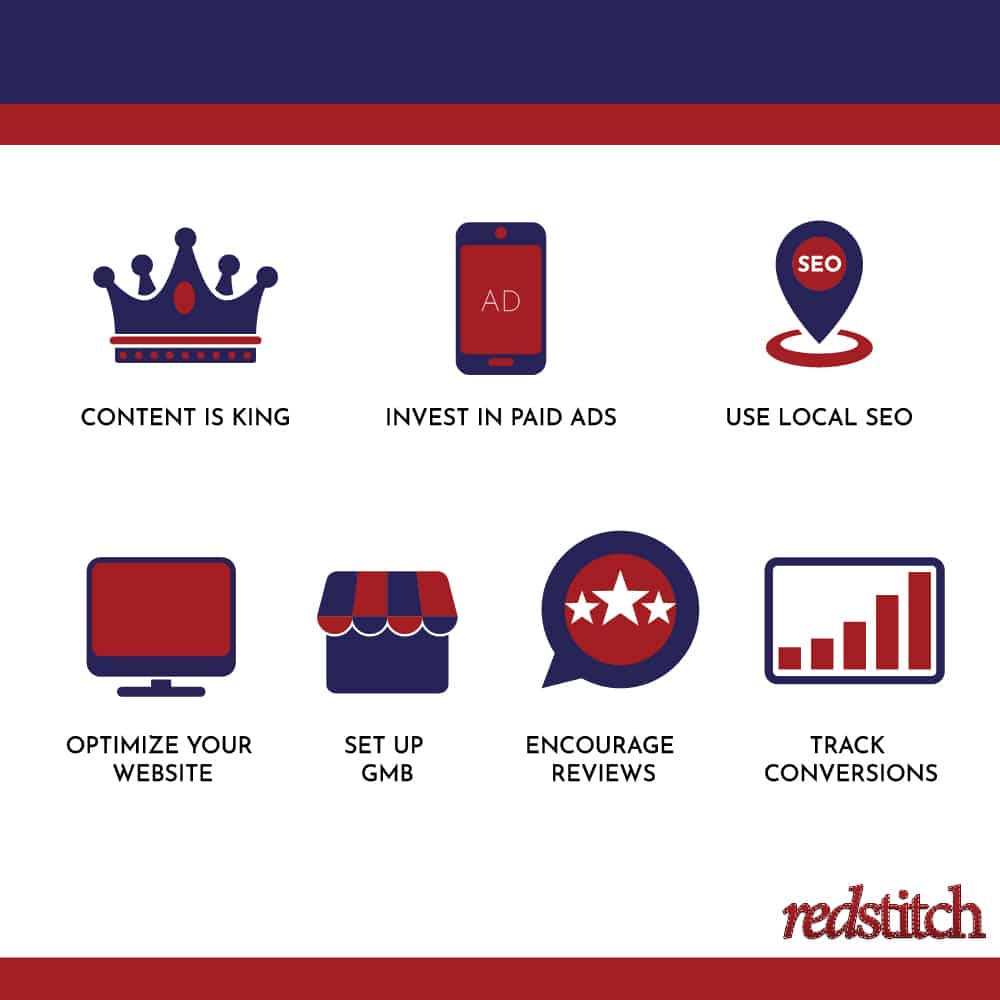 No one wants to spend hundreds of hours on digital marketing only to receive diminishing returns or, worse, no results at all.
A results-focused digital marketing strategy stays fresh, relevant, and dynamic in order to draw traffic to your website and target audiences to your brand quickly and continuously. And it may be more achievable than you think — if you know how to build one. We recommend focusing on these seven areas when creating a results-focused digital marketing plan.
1. Content Is King
If you've dipped your toes into digital marketing and search engine optimization (SEO), you've likely heard that "content is king." If your audience finds you to be a reputable source with engaging, informative content, they're much more likely to trust you, engage with your products and service, and return for more content. Interesting, organic content helps boost your SEO along with attracting human customers. The right content can help to raise your ranks on Google's algorithm.
Content marketing is often done through blogs or webpages, but a few hundred words that skim a topic's surface are not enough to impress Google's algorithm — or your customers. Google's algorithm seeks out rich, backlinked content relevant to popular searches. The longer your content, the better.
Keywords can help make your content appear more relevant, but beware of keyword stuffing — forcing too many keywords into your content to game the Google algorithm. Google heavily penalizes this with demotion on search engine rankings and, in some cases, complete removal from searches. Similarly, while long content looks good to Google, useless fluff will turn off your human audiences.
You want to strike the right balance when creating content. The content should be organic, with keywords sprinkled throughout naturally, but focus on providing helpful and clear information that answers customers' questions. A deep dive into a question your target audience may have, backed up by reputable research, is ideal. Typically content between 1,500-2,000 words is the sweet spot when it comes to content length.
The design of your content plays a role, too. Walls of text can overwhelm readers. Break up your text with headers, bullet points, and formatting variance. Infographics that summarize your point in clear, visually pleasing styles are also effective. Studies have shown that presentations, including infographics, are often 43% more persuasive. Using relevant royalty-free images can also help the design of your content. Take a look at images licensed for commercial use so you can make your content pop … without running into legal trouble.
2. Invest in Paid Ads
SEO through content marketing is one free way to move up Google's ranking, but it can take time and isn't always a sure thing. You're often competing against thousands or even millions of search results. One way to ensure you get a place of priority on a relevant Google search is through paid Google ads.
Google ads charge between $1-2 per click per click. If your ad does well, you could pay thousands of dollars monthly for your Google ads. While this may be a significant investment, many digital marketers find it well worth the cost to have their website show up at the top of a relevant Google search. These ads offer the sort of targeting capabilities and analytics that only a tech behemoth like Google can provide, making it easier for your target audience to find your ads and interact with them.
You can still use Google ads if you're on a tight budget. Set a monthly budget cap based on the amount you're willing to allocate to paid ads. When you hit your monthly budget cap, your ad will cease to appear on Google until the next month. It will have a limited showing, but you will still likely achieve results. Google will even estimate your results for you based on your budget.
3. Make Your SEO Local
Most customers typically search for local businesses online. In fact, 60% of customers report searching for local businesses at least once a week. That's why it's important to boost your local SEO specifically.
Local SEO is an SEO strategy for boosting your business's local visibility. You want to appear in searches for "businesses near me." This will narrow down the audience to those nearby who are most likely to engage with your business. A few ways to boost your local SEO include:
Setting up a Google Business profile, including your:

Hours
Street Address
Contact information
Customer reviews

Keeping all of your online listings consistent and up-to-date
Referencing your location throughout your website and using local keywords
Boosting local reviews
Linking to local citations and resources
Submitting your information to local directories
Keeping an active social media presence
Using paid geofencing to appear in local searches
Local reviews are a gold mine when it comes to local SEO. The more reviews you have and the higher your average — especially on your Google business profile — the more prominently your business will rank on local searches. We'll talk about how to encourage reviews later.
4. Optimize Your Website
Your website is your primary online hub: more than social media, directories, or Google business profiles. We've passed the day in the digital age when simply having a website was enough. Businesses need to ensure their websites are optimized for SEO and user experience.
We've already talked about how local SEO and organic, engaging content can enrich your website and help you boost your search engine rankings. Beautiful imagery and a network of internal linking will also help to boost your SEO. But a big part of optimizing your website is the user experience — particularly the website's speed.
You can have a beautiful website that follows all the rules of SEO, but if it's a pain for customers to access, it will fall into obscurity. Customers are used to an instant online experience: 47% expect webpages to load in two seconds or less, and 40% have reported abandoning the page if it doesn't load within three. Google also accesses its users' browser data to determine your website's loading speed, so a slow website can negatively impact the algorithm.
Sometimes the issue comes down to your server. Website servers can only handle a certain number of users before they slow down, but different servers offer different thresholds. If your website is slowing down in periods of high activity, you likely have a server with a low load tolerance and may need to upgrade.
It's essential that the initial page of your website loads quickly, hooking the reader's interest. However, you should take other steps to boost your overall page load time, including:
Utilizing analytics tools to monitor the load time for your website and what might be slowing it down
Choosing a simple website design and limiting plugins
Avoiding built-in ads
Using third-party hosting for large files
Making sure all links work properly
While you want your website to be beautiful and eye-catching, you don't want the design to be so convoluted that it slows down the load time for the entire website. Choosing a clean, simple website design that makes a statement is much more effective when it comes to website speed. Straightforward navigation and easy-to-find menus are also a must. Customers should know exactly where to turn for the answers to their questions.
Another thing to keep in mind is mobile website optimization. Your website might look great on a desktop, but nearly 60% of all website traffic comes from mobile websites. Your website should be as easy to access and load on a mobile device as on a desktop — if not more.
5. Set Up Google My Business
We've already discussed how Google My Business can improve your local SEO. But when properly utilized, Google My Business can be a key ingredient to creating a results-focused digital marketing plan. A Google My Business profile is often the first thing customers see when they search for a business — even before the website.
Your Google business profile is a Google page for your business that sums up everything customers need to know, including:
The name and location of your business
A photograph of the business and logo
A link to the website
Contact info
Hours of operation
The products sold by your business
The good news is Google often creates these business pages based on Facebook information, so you may already have a Google My Business profile. If that's the case, you'll find a question toward the bottom of the page asking, "Own this business?" This prompts you to verify your ownership. You can then make changes to update any outdated information on your Google My Business profile. If Google hasn't created your My Business page, you can set one up yourself for free.
This is a great way to make sure your address and contact information are easily accessible to your customers, as well as a way to drive traffic to your website. But there are steps you can take to make sure your Google My Business profile shines, such as:
Uploading a photo of your business for your profile and map header and keeping it fresh and relevant
Adding your business name and logo
Including call-to-action buttons to call your business, get directions, or visit your website
Adding a clear and precise description of your business
Updating the description of your business quarterly
Cross-linking Facebook reviews and other review sources
Offering updates about your business during emergencies or holidays
Enabling chat within Google My Business can also improve your customers' user experience, making it easier and more accessible to communicate with you. Instead of going to your website to find your contact form, they can open a chat within Google My Business, and you can respond to them there.
6. Encourage Reviews
Reviews are good for your business in many ways. The more positive reviews you have, the more your credibility will rise. Reviews help your customers know the level of service they can expect from your business. Every business hopes for high-quality reviews, but even the quantity of reviews can help improve your SEO by catching the attention of Google's algorithm.
Reviews are difficult to anticipate. You can't force customers to review your business. There are, however, a few strategies you can take. One is to post signage throughout your storefront, reminding them to leave a review and pointing them to where they can do so. Many customers are happy to provide feedback, especially when they receive good service, but may forget or not know where to go. In the case of online business exchanges, you might send out a follow-up email encouraging customers to leave a rating and review.
While good reviews are always helpful when boosting your local SEO, it's also important to know the right way to handle bad reviews. On Google reviews, as well as many other review sites, businesses can respond to reviews. If you make a poor first impression, it can help to offer an apology and attempt to improve the situation. Even if the customer does not respond, this will still make a good impression on future customers. Arguing with or insulting those who leave a poor review, on the other hand, may turn customers away.
It would help if you offered multiple places to leave online reviews. Google will allow reviews for any business with a Google My Business profile. Facebook Business pages also have reviews built into them. Additionally, you can utilize websites like Yelp or industry-specific review sites such as Angi for home remodeling, GigSalad for catering and event planning, or Zocdoc for medical professionals. These websites are designed to connect customers with local businesses in a particular industry, including showing them business reviews.
7. Track Your Performance With Conversion Reporting
Your digital marketing plan should never be static. It will be a bit of trial and error, especially at first. You'll need to see what works for your business and doesn't. The best way to do that is to track conversions and engagement.
In digital marketing, a conversion is the positive result of a marketing strategy. It can be a customer making a purchase, signing up for a subscription, or even reaching out to learn more information. There are also micro conversions that might be less direct but can help your business in the long run, such as:
Newsletter sign-ups
Sharing content on social media
Customer sign-ups/logins
Downloading content
Adding a product to a checkout cart
The goal of digital marketing is to get as many conversions as possible, whether full conversions or micro conversions. You may find that certain digital marketing strategies yield more conversions than others. The less successful tactics may need to be cut or reduced to make room for the more effective tactics.
You can track your conversions by dividing the number of interactions you receive — i.e., visits to your website — by the number of conversions. The answer will serve as your conversion rate. You may use tools like website dashboards or Google Ads manager to analyze your interactions to conversions so that you know which methods are most effective.
Structure and Focus Your Digital Marketing Plan With the Help of a Marketing Agency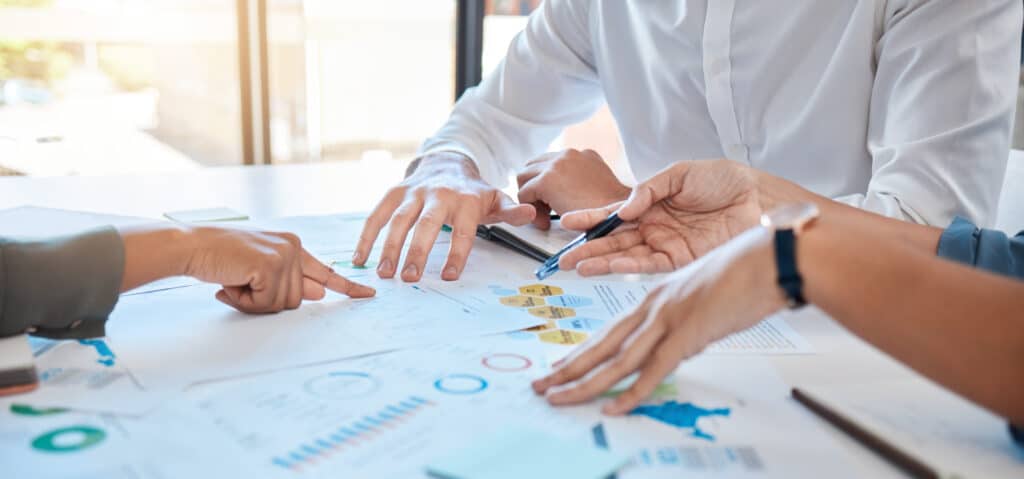 If you want to strengthen your digital marketing plan with the help of expert marketers, look for a digital marketing agency rather than an in-house marketing department. In-house departments often have a variety of responsibilities, so it may be a struggle to devote their time to your digital marketing the way a marketing agency can.
At Redstitch Digital, digital marketing is our specialty and priority when it comes to our time.We can help you focus on the most critical aspects of your digital marketing to yield the best results. Redstitch Digital is the way to go for a more efficient digital marketing strategy. Contact us today to learn more or to schedule a call to discuss your digital marketing plan needs.