Are you struggling to appear on the first page of Google search results? You're not alone. Many business owners and marketing managers face this challenge, knowing that higher visibility leads to increased credibility, trust, and better chances of generating leads and revenue. In this blog post, we'll explore the common reasons behind not ranking on the first page of Google and provide actionable tips and advice on how to improve your search engine ranking. So, let's dive in and start enhancing your online presence for better visibility and success.
The Importance of Appearing on the First Page of Google Search Results
As the world's most popular search engine, Google processes billions of searches each day and acts as a gateway to virtually any information sought by users. Consequently, businesses need visibility on their results page to reach potential customers. Higher visibility on the search engine results page (SERP) directly translates to increased exposure to potential customers. This, in turn, helps to establish credibility and trust for your business, as users tend to perceive the first page results as the most relevant and reliable sources of information.
Moreover, securing a spot on the first page of Google significantly enhances your chances of generating leads and revenue. Studies have shown that websites listed on the first page of Google receive the vast majority of search traffic, with the click-through rate dropping drastically for results on the second page and beyond. Consequently, ranking on the first page is essential for businesses aiming to improve their online presence and attract more clients.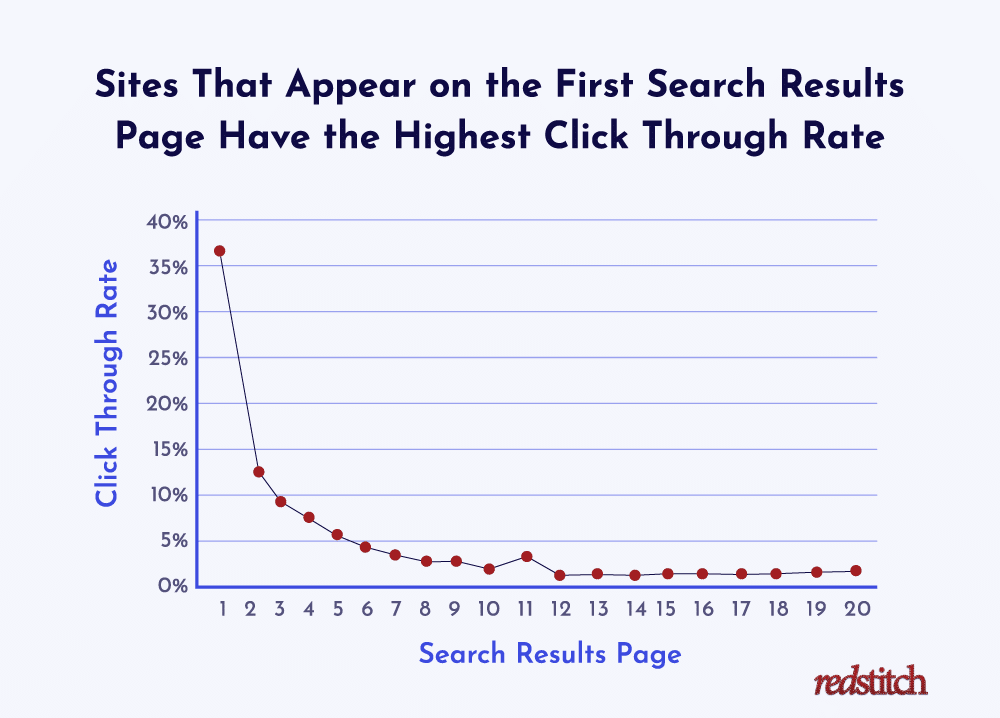 Common Reasons for Not Appearing on the First Page of Google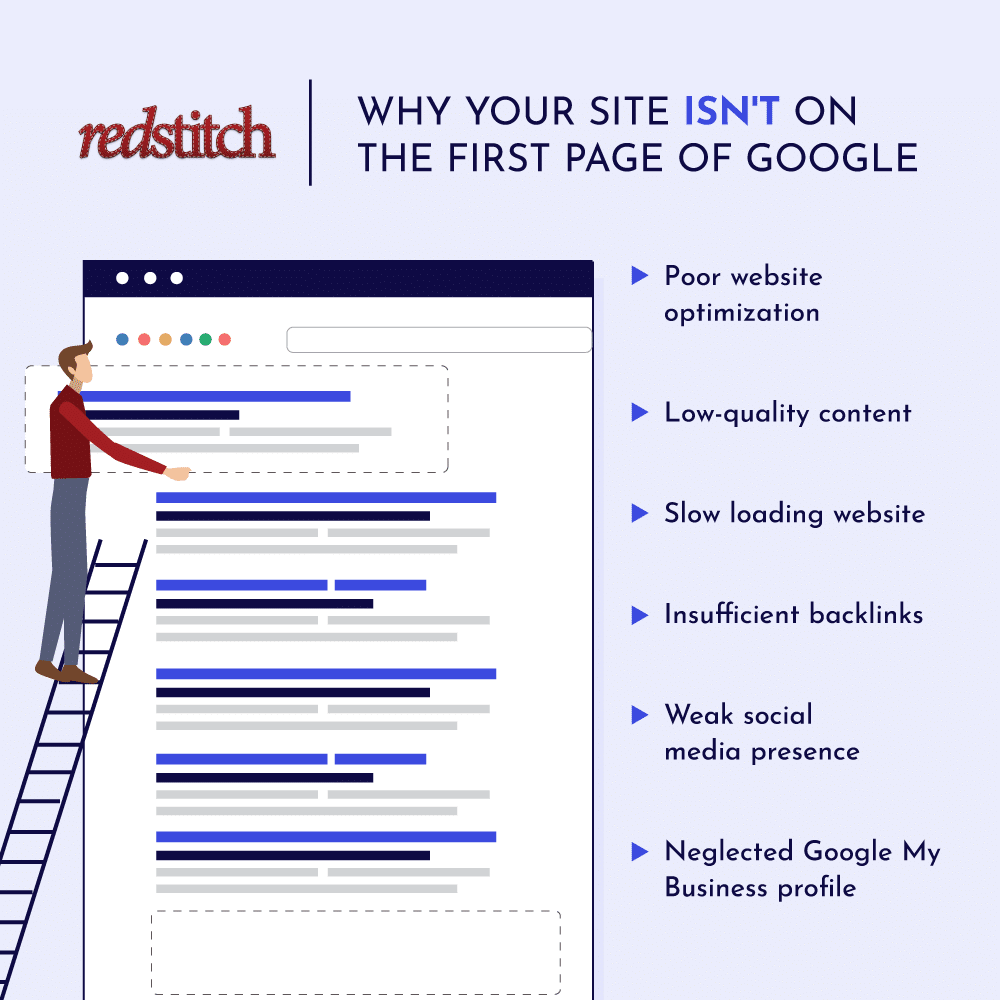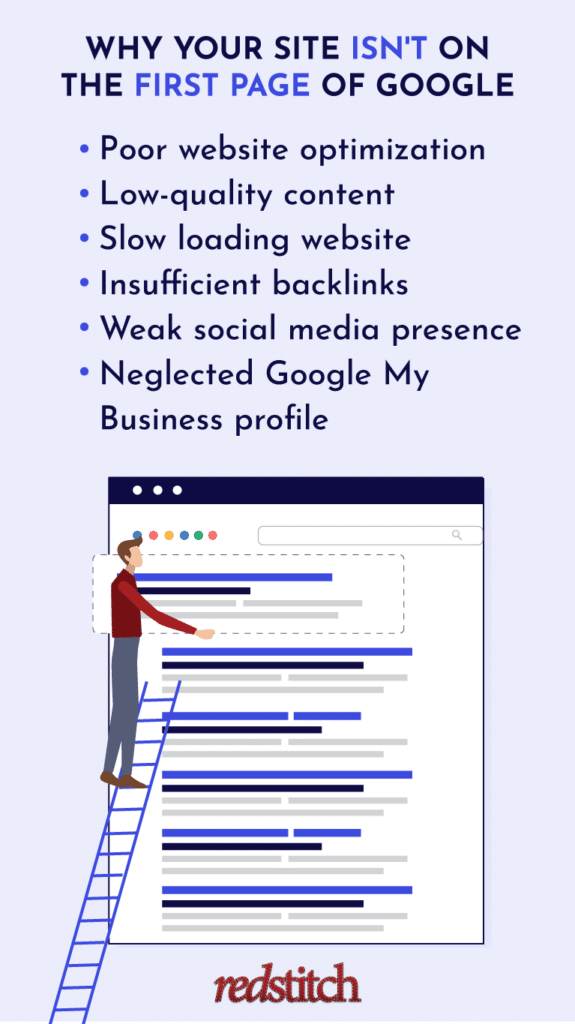 Poor SEO- A primary reason for not appearing on the first page of Google search results is poor website optimization, often referred to as search engine optimization (SEO). This can be due to inadequate keyword research and usage, resulting in a lack of relevant terms for search engines to index. Additionally, a website with low-quality content may struggle to rank well in search results, as Google prioritizes valuable and informative content for its users.
Poor Website Performance- Another factor that may be negatively impacting your search ranking is slow website loading times. Google takes page speed into account when determining search rankings, as faster-loading websites provide a better user experience. Insufficient backlinks from authoritative websites can also hinder your website's search performance. These backlinks act as "votes of confidence" for your website, indicating its credibility and relevancy to search engines.
Poor Social Media Presence- A weak social media presence and engagement can also contribute to a lower search ranking. Active and engaged social media profiles signal to search engines that your brand is reputable and worth promoting. As well, a neglected Google My Business profile can prevent your business from ranking well in local search results. This valuable tool provides information about your business directly to potential customers and is essential for boosting visibility in local searches.
Tips for Improving Your Search Engine Ranking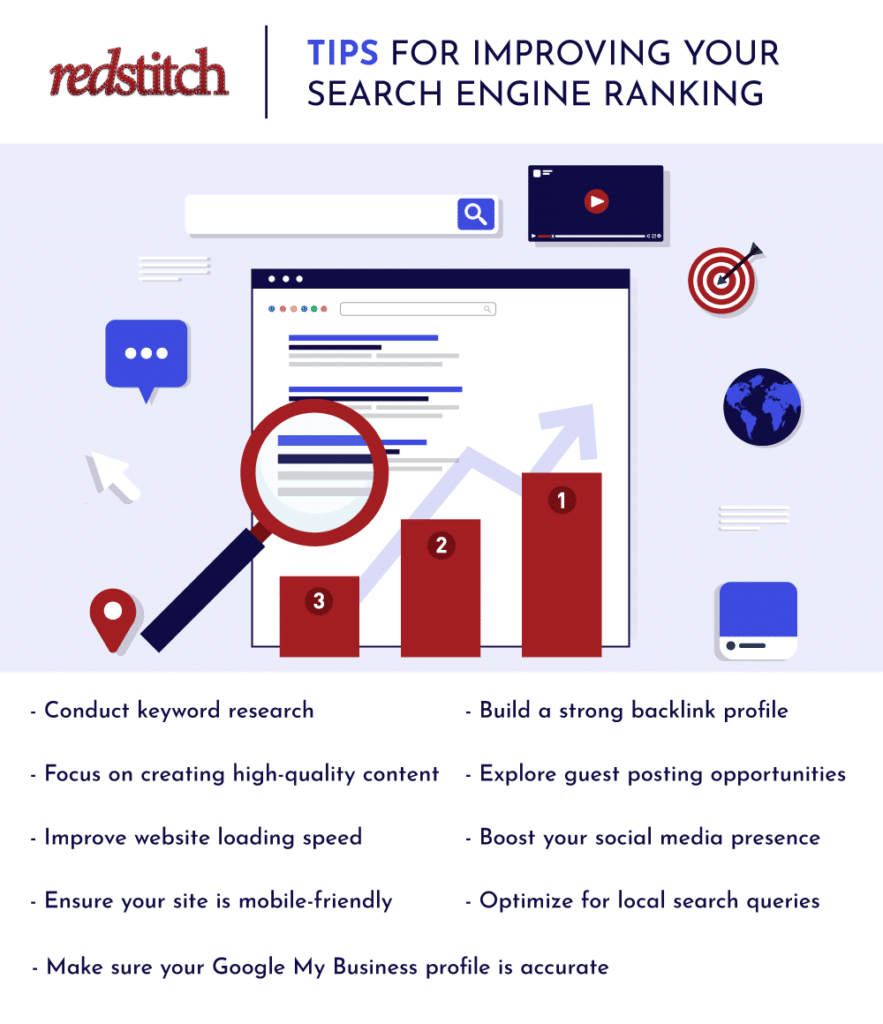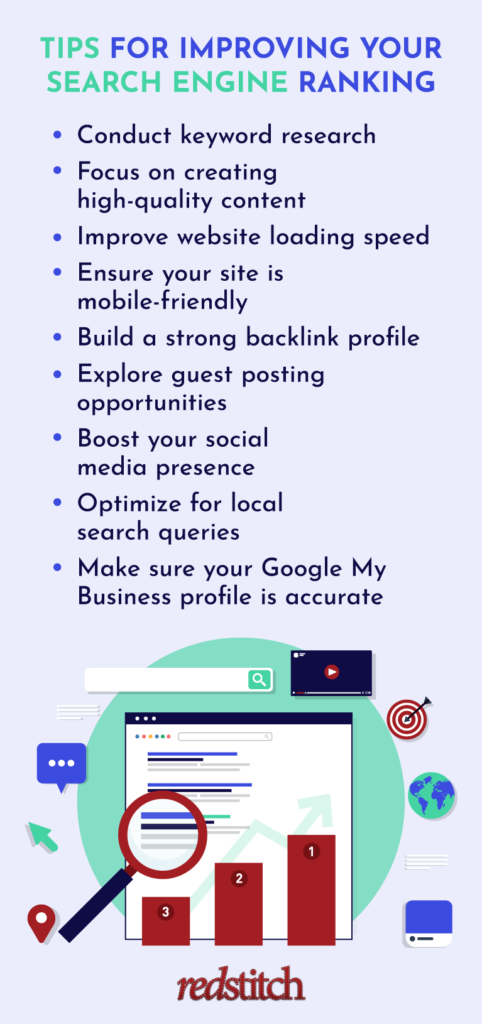 There are several strategies and tactics that can help improve your search engine ranking. Before getting started, it's essential to conduct extensive keyword research. Utilize tools like Google Keyword Planner and Moz Keyword Explorer to identify relevant keywords and phrases, including long-tail keywords, that can help drive targeted traffic to your website.
When optimizing and creating website content, remember to focus on quality rather than quantity. Focus on creating high-quality, valuable content that addresses the needs and interests of your target audience. Additionally, work on improving your website's loading speed and ensuring it is mobile-friendly to provide a seamless user experience.
Build a Strong Backlink Profile
Building and maintaining a strong backlink profile can significantly impact your search engine ranking. Explore guest posting opportunities on authoritative websites within your industry, and collaborate with influencers to gain valuable backlinks and increase your online credibility.
A robust social media presence is essential for boosting your search visibility. Consistently post relevant content that resonates with your audience, engage with them regularly, and consider using social media advertising to increase your reach and visibility.
Optimize for Local Search
Optimizing your website for local search queries is another essential aspect of improving search engine ranking. Ensure that your website, social media profiles, and GMB listing display accurate information in the correct format. Additionally, focus on local link-building efforts to acquire high-quality backlinks from authoritative sources within your area.
Leveraging Google My Business for Better Search Visibility
Claiming and optimizing your Google My Business (GMB) profile is crucial for improving your search visibility. This free tool from Google allows you to manage your online presence across various Google platforms, including Maps and Search. A well-maintained GMB profile can lead to better local search rankings and increased chances of appearing on the first page of Google.
To make the most of your GMB profile, encourage customers to leave reviews and take the time to respond to them. This not only boosts your credibility but also shows that you value customer feedback. Additionally, upload high-quality images that showcase your products, services, and business location. Keeping your business information up-to-date and accurate is essential for potential customers to find and contact you easily.
Enhancing Local SEO Efforts
Optimizing for local search queries is crucial for businesses targeting a specific geographical area. By tailoring your content and website elements to suit local search terms, you'll have a better chance of ranking higher in search results for your target audience.
Utilizing local business directories and citations is another effective way to improve your local SEO. By ensuring that your business information is consistent across various platforms, you'll establish greater credibility and trust with search engines. This, in turn, can lead to improved visibility in local search results.
Focusing on location-specific keywords is also essential for enhancing local SEO efforts. Incorporate these keywords naturally into your website content, meta tags, and image descriptions. Remember to include them in your Google My Business profile as well to help search engines better understand your business's location and services.
Case Study: Local Pages Put Insurance Agency On First Page of Google
An insurance agency desired to focus mainly on Indiana, Illinois, and Kentucky while having a license to operate in several states. Redstitch utilized AI technology to generate a list of keywords with significant search volume in those states. We leveraged Google's keyword planner to narrow down relevant keywords with local search volume and created over 100 local pages for the insurance agency. Although organic SEO efforts usually take time to yield results, in the last three months, more than 20% of the local pages had an average ranking on the first page of Google. As a result, these pages garnered 5,604 organic impressions in the last quarter, highlighting the success of our tailored local SEO efforts for the company.
Some of the top search queries the insurance agency ranks for on the first page of google include:
Marion, IL renters insurance quotes

Renters insurance in Corydon, IN

Renters insurance in Bedford, IN

Effingham car insurance

business insurance Bowling Green, KY

Car insurance companies Beaver Dam, KY

Owensboro insurance agency
The triumph of the local pages can be attributed to various factors such as targeting long-tail keywords, implementing FAQ schema for better search results, optimizing meta titles and descriptions, using appropriate H1s, internal linking, and incorporating proper alt text for images.
The Importance of Patience and Consistency in Achieving First-Page Rankings
Achieving a first-page ranking on Google is often a primary goal for businesses looking to enhance their online presence and generate more leads. However, it's essential to understand that search engine optimization (SEO) is a long-term strategy, requiring patience and consistent effort. Instant results are rare, as SEO success is built on continuous improvement and adaptation to changing industry trends.
Regularly monitoring and adjusting your efforts based on results and industry changes is crucial to maintaining or improving your search engine rankings. It's also important to stay informed about Google algorithm updates and best practices, as these can significantly impact your website's performance and visibility. By committing to a consistent and informed approach to SEO, you can gradually work towards securing a coveted spot on the first page of Google search results.
In the ever-evolving digital landscape, achieving first-page rankings on Google is crucial for your business's visibility, credibility, and long-term success. By implementing the strategies outlined above, you can improve your search engine ranking and generate more leads and revenue. However, it's essential to remember that SEO is a long-term game that requires patience and consistency.
As a business owner or marketing manager, it can be challenging to navigate the complexities of SEO on your own. That's where we come in. At Redstitch, our team of experts and our powerful AI platform can help you outrank your competition, optimize your website, and increase your online visibility. So why wait? Let us help you turn your website into a lead-generating machine and start reaping the benefits of first-page Google rankings today. Reach out to us now and let's get started on your journey to success.