As technology develops faster and faster, so does digital marketing. The techniques that worked yesterday — television, billboards, and even Facebook — can't keep up with today's hyper-personalized environment.
To stay competitive in this market, you need to deliver tech-powered campaigns.
From online review management to artificial intelligence (AI) marketing, here are nine digital marketing trends you need to embrace before they leave you behind.
1. Artificial Intelligence
Smart marketing means knowing your customers and what gets their attention. Now that 52% of customers expect all marketing to be personalized, it's even more important.
You could spend hours wading through customer behavior and demographic data, but you'd risk falling behind. AI has become a must-have for companies looking to market efficiently.
AI fast-tracks your marketing. It uses customer data to determine what resonates with different types of customers. Instead of wasting time on trial and error, you can produce personalized content from the start.
Personalization is one of today's hottest digital marketing trends. According to a 2021 McKinsey survey, 71% of consumers expect personalized interactions. Seventy-six percent find it frustrating when that doesn't happen.
AI lets you reach a high level of personalization faster and more effectively. It automates mundane tasks like sending abandoned cart emails and updates customer files when they take action so you're always up to date with what customers need.
AI also gives you better insights into your search engine optimization (SEO), website optimization, and lead conversion rates. Wherever there's data, AI lets you use it effectively.
2. Chatbots
Chatbots are one of AI's most ubiquitous digital marketing trends. They've become so popular that they're worth their own discussion.
Chatbots use machine learning and natural language processing (NLP) to have "conversations" with users. When added to a website, they can give customers answers to basic questions at any time of the day or night.
According to the 2021 State of Conversational Marketing report by Drift, 35% of consumers use chatbots as their primary way of communicating with brands. That's a 10-percentage-point increase year over year.
Chatbots are popular because they're convenient, simple, and immediate. The same report showed that almost 60% of people expect an instant response from chatbots — up from just over 40% in 2019.
3. Optimized Long-Form Content
Don't believe people who tell you that readers never want long articles. The ideal length for a blog post or article is 2,100 to 2,400 words, according to a 2021 HubSpot analysis.
Longer posts let you dive deep into topics that interest your audience. It's not about adding words but adding value. Your goal is to establish your expertise and become a go-to resource for your target audience. That means answering the questions your readers are asking.
Choosing the Right Topics
Without keyword research, you're stuck guessing as to what kind of content your readers want to see. You might hit on a winner that way, but you're more likely to end up lagging behind your more data-informed competitors.
First, determine what kind of buyer intent you want to target. Longer content is particularly effective for informational searches, like "How to Do X" or "Strategies for Solving Problem Y."
These articles target people who are just starting their research. They know they have a need but don't know how to solve it yet. The more complete your answer, the more they'll trust you down the line.
You can also create a high-value "Best of" or "Top 10" article covering leading products in your niche. These are useful for targeting people who are almost ready to buy and want to compare options. It's OK to highlight your offering, as long as you give a balanced and honest review of the other options you cover.
Optimizing Content for Search Engines
If you're going to invest in long-form content, you need to help people see it. That means optimizing for SEO and getting as high on the search engine results page as possible.
The first result on Google has a 28.5% click-through rate. The rate for the second result is just 15.7%, and it drops to 11% for result No. 3. By No. 10, just 2.5% of viewers click through.
Valuable reader-centric content is the most important part of the rankings. Since Google launched its " helpful content update" in August 2022, it's only become more crucial.
That means publishing content that:
Serves a particular audience
Demonstrates detailed firsthand knowledge
Offers information the audience didn't have before
Feels educational and worthwhile for readers
Writing for people also means formatting for readability. Make your long article less intimidating with short paragraphs and sections that follow relevant headlines. Use images and videos that add value and link to other useful content.
4. Text Marketing
Text messaging is one of the biggest digital marketing trends of the decade. In 2020, 61% of businesses reported plans to increase their text marketing budgets. Their top reasons included:
A large potential audience
Stronger customer engagement
Interactivity and text-back options
Higher click-through rates
Respondents reported text marketing click-through rates between 20% and 35%, compared to email click-through rates of 10% to 20%.
These higher engagement rates make sense. Survey respondents check their text messages more than any other app, including email and social media. Nearly 60% answer their texts within five minutes of receiving them.
If you're not texting your customers, someone else is. Stay top of mind with personalized alerts, segmented by customer interests and demographics. Possibilities include:
Subscriber-only deals or promotions
New product and restock alerts
Birthday messages and other personal alerts
Loyalty program updates and rewards
Offers for contest entries
Always include a link for the reader to tap so they can take the next step — like a page where they can use their coupon.
5. Online Reviews
Online reviews are more important to customers than ever. According to BrightLocal, 77% of customers "always" or "regularly" read reviews when searching for local businesses. In 2020, that number was just 60%.
Reviews help potential customers feel good about buying from you. Almost half of BrightLocal respondents trust consumer reviews as much as recommendations from family and friends. For 75% of shoppers, if the review describes a positive experience, they have more positive feelings about the business.
The Value of Critical Reviews
Not all of your reviews have to be positive. Customers expect to see a few negative reviews in the mix since real businesses make mistakes and aren't always a good fit for everyone. Shoppers want to know what other people didn't like about your product so they get a clear picture.
Customers also pay attention to how you respond to reviews. BrightLocal showed that 89% of customers are likely to use a business that responds to all reviews. More than half — 57% — won't use a business that doesn't respond.
How to Handle Reviews
No matter what you do, your reviews are part of your marketing. Take control by actively managing them. Check for reviews every few days and respond as much as possible, even if it's just with a simple message like this: "Thank you! We're glad we were able to help."
For negative reviews, offer an apology and invite the customer to connect with you offline. Be polite and validating. What you're really saying is, "This is how we treat people."
6. Website Optimization and Speed
You get only one chance to make a first impression, and your website will be that first impression for many people. It's important to optimize your website so people have the best possible experience.
Speed is a major factor. According to a recent survey, 53% of customers expect a website to load in five seconds or less and will abandon a website that takes more than six seconds.
Decreasing your load speed to five seconds can get you up to 70% more user sessions. Even just a one-second improvement can boost your conversion rate by 7%.
You can quickly and easily check your website's loading time using Google's PageSpeed Insights tool. If the results are disappointing, consider a few technical changes like optimizing your images and removing unnecessary plug-ins.
7. User Experience
Optimizing your page speed and overall user experience can also boost your SEO. In 2021, Google introduced an update giving more ranking weight to the page experience, including load times.
Speed is a major factor, but for your visitors to have a positive experience on your site, your site also needs to be:
Easily navigable: Visitors should have no trouble finding what they need. Think about how quickly a new user can find essential information like pricing, a services list, or contact details.
Uncrowded: Use white space around text and images to focus the eye and keep the user from feeling overwhelmed.
Visually interesting: Add relevant and valuable images to keep the user engaged. Use bullet points and symbols to highlight key information.
Well-designed: Understand web design conventions like headings and distinct call-to-action buttons. Use those tools to direct users' attention.
Optimized for mobile devices: More than half of your users will find you on mobile devices. Plus, Google crawls the mobile version of a site first.
At Redstitch Digital, we can help you approach this process with marketing in mind. By focusing on what your users need, we can help you get the most from your redesign efforts.
8. Local Search
According to BrightLocal, 99% of consumers have gone online to find a local business, up from 93% in 2020. Google is, by far, the resource of choice, with 81% of consumers using it to choose a business in 2021. That's a 17-percentage-point increase year over year.
As part of its commitment to relevant results, Google has developed algorithms that identify local searches. It can even pick up on searches that aren't explicitly local but suggest an in-person need, like "pet groomers" or "ice cream shops."
To stay competitive, you need to optimize your site for local searches in every area you serve. That means:
Keeping your Google business profile up to date
Having a profile for every location
Using keywords that local customers search with
Keeping up with online reviews also helps your local search rankings. Ask your customers to review you on Google, and remember to respond. It requires more attention than most digital marketing trends, but automation and a partner like Redstitch Digital can take a lot of it off your hands.
9. Paid Search
Local search is one of the top digital marketing trends from the customer's perspective, but paid search has marketers' attention. With paid search, you can reach specific audience demographics.
Paid search lets you show your ads to certain audience segments. You can segment based on age, geographic location, family status, spending behavior, and more.
Paid search is competitive, but that's where smart data use comes in. When you use AI tools to process and analyze your data, you get smarter and more precise insights. Those insights let you zero in on the right keywords and campaign angles to stand out from the crowd.
Standing out is essential in paid search. Only four ads get to show up above the organic results. You need to have highly relevant ads and targeted landing pages to make the cut.
Social Media: One of Yesterday's Trends in Digital Marketing?
Keeping up with digital marketing trends doesn't necessarily mean adding to an already-full plate. It may also mean letting go of tactics that used to be must-haves.
One example is social media marketing. It gets a lot of press, and many companies — especially bigger ones — have built impressive followings. But for many industries, social media doesn't pay off.
At Redstitch Digital, we've found social media to be less efficient than more modern, AI-informed digital marketing trends. On average, less than 2% of our clients' leads come from social media.
There's always the exception, of course, and we'll certainly double down on social media if it proves to be beneficial. But for most companies, it makes more sense to focus on strategies that pay off more reliably.
Adapting to Digital Marketing Trends With the Right Partner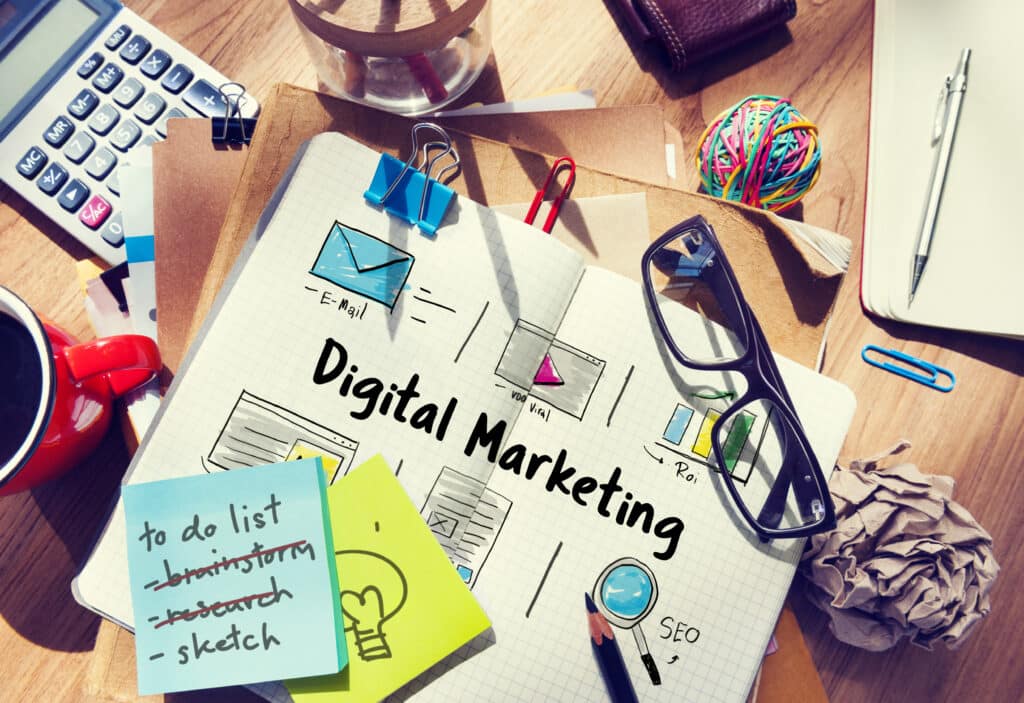 Digital marketing trends in 2022 are more advanced than ever. Fortunately, you also have more resources than ever before. If you want to stay ahead of the curve, your best bet is to partner with a marketing company like Redstitch Digital.
Redstitch uses advanced AI technology to create a marketing strategy as unique as your business. We pull together all aspects of your online presence, from organic search to paid ad campaigns, to get you the best results possible. Learn more about our proprietary tool, ConvertIQ, and how it can help you keep up with the leading digital marketing trends.