Marketing isn't what it used to be. It's hard to see because TV, radio, and newspapers are still full of the ads you saw growing up — blanket "buy now" messages designed for whoever's out there. If you run these ads, you might still get some customers from them.
But even as ads fill the airwaves, online marketing is quietly taking over. Today's marketers invest more in digital channels like email and pay-per-click ads and less in traditional media. In September 2022, advertisers spent 15% more on digital year-over-year and almost 1% less on traditional marketing.
When you look at online marketing's advantages over traditional media, it's easy to see why.
What Is Online Marketing?
More than 90% of the U.S. population and 63% of the world's population have internet access. Many children and young adults don't remember a world without the web.
Online marketing lets businesses use this ubiquitous tool to build customer relationships. It's a broad-based strategy with dozens of individual tactics — email, web search, blogs, videos, and more — geared toward meeting consumers where they are.
With online marketing, businesses can choose the approaches that work for them and their customers.
Types of Digital Advertising
Digital advertising is a part of the picture but not the whole. When marketers refer to digital advertising, they're talking about paid ads that invite audiences to buy or click on your content.
Search engine advertising: Paid results at the top of the results page when someone searches on Google (or another search engine).
Display ads: Ads displayed on other people's websites. Display ads usually appear on the margins of a website.
Social media ads: Paid content on platforms like Facebook and Instagram. They usually look like regular social media posts and can be geared toward specific audiences.
Online marketing goes beyond advertising to reach audiences without paying directly for each exposure. For example:
Search engine optimization: Developing, organizing, and updating your website so that it shows up at or near the top of search results
Social media marketing: Using strategic posts and ads to gain followers and stay in touch with existing audiences
Email marketing: Staying top-of-mind with your customers through promotions, updates, and more
Content marketing: Building new relationships through informative blogs, articles, videos, and so on
Affiliate marketing: Boosting your word of mouth by offering commissions to influential personalities who promote your product
You can use any combination of these tactics in your digital marketing strategy. At Redstitch Digital, we tend to focus on nonsocial channels, as social media drives so few of our customers' leads. It's about finding the right balance and learning what works for your customer base.
7 Ways Your Business Can Benefit From Marketing Online
Online marketing lets your reach consumers at every phase of their journey. It could be a blog people read before comparison shopping or an ad that finally prompts them to purchase. It might be a paid ad or a change to your landing pages that helps you appear in search results.
Either way, marketing online gets you more for your money.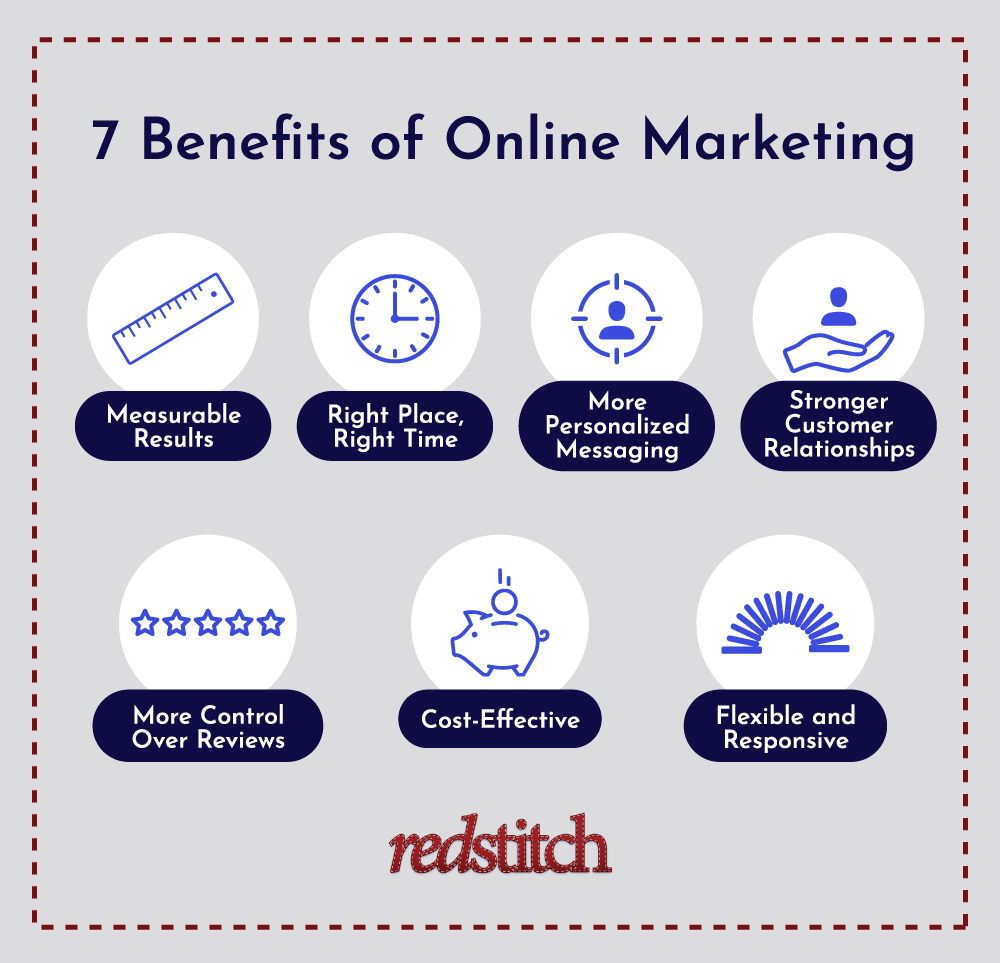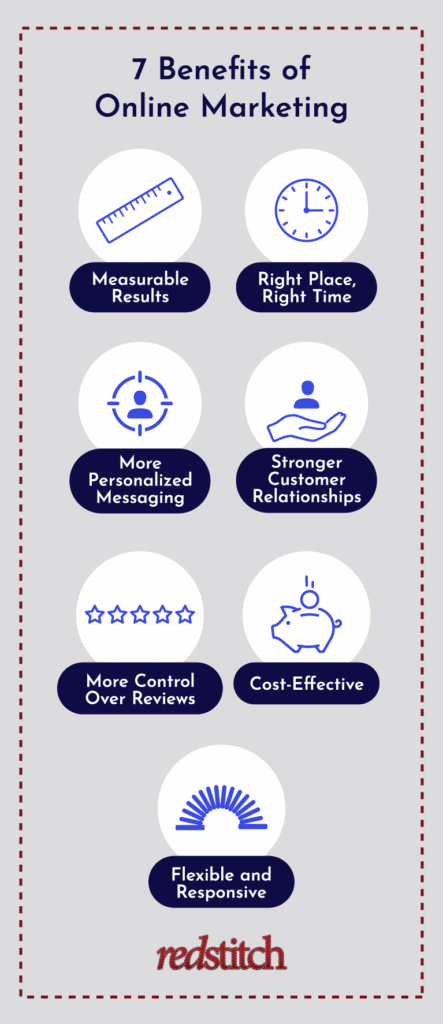 1. Measurable Results
Traditional marketing methods like fliers, billboards, and radio ads aren't trackable. There's no way to tell how many people saw an ad or took action based on it.
You can ask customers how they found you, but that's only part of the picture. It doesn't tell you how many times people saw or heard your messaging before purchasing or which version of an ad made more money. Plus, people sometimes pay little attention to how they choose a brand.
Online marketing makes it easy to measure anything you want to know about your ads, like how much you're spending per customer or how many people see your ad.
Analyzing Paid Ads
Online ad systems like Google Ads make it easy to track how your ads are doing. With automated data collection and analysis, you can log onto your ad account and see how well your ads are engaging people. You can view data like:
Conversions: How many clicks result in important actions like purchases, email list sign-ups, or web page visits, and which ad campaigns trigger those actions
Click-through rate: What percentage of people click on your ads
Cost per click: How much you pay for each click on your ad
Reach and frequency: How many people saw your ad and how often
This can seem like a lot to handle if you're used to manually tracking your advertising return on investment. But in online marketing, most of it happens automatically. Your ad networks track things like clicks, impressions, and conversions.
A digital marketing partner like Redstitch can help you make sense of that data. We'll track the right metrics and use that information to help you make better decisions.
How Analytics Help Marketers
For example, cost-per-click measures the people who clicked on your ad, not just those who saw it. This tells you how relevant, interesting, and valuable your ads are, especially compared to other ads you've run. If you budget $1,000 for your digital advertising campaign and get 500 clicks, your CPC is $2.
If you pay the same for another campaign and get 1,200 clicks, your CPC is about 83 cents. In other words, you're paying much less for the same engagement.
You can also use analytics for non-advertising channels. For example, if one blog gets twice the views of another, you can bet the first one resonates better with your audience. The same goes for an email campaign that gets thousands of clicks versus hundreds.
2. Right Place, Right Time Marketing
According to the 2022 Local Consumer Review Survey from BrightLocal, 99% of consumers go online to find a business. Almost a third of Americans are " constantly online," and more than 80% are online at least daily.
Some of those people are actively searching for a brand like yours. Have a local pizza shop? Someone will go online tonight and search for the "best pizza near me." You need to show up in that search if you want their business.
That's where search engines come in. A big part of digital marketing is search engine optimization — tweaking your website and its various pages so that it shows up when people search for a company like yours. Whether they're searching locally, SEO matches your content with their needs.
The better your SEO, the more attention you get without paying for ads.
3. More Personalized Messaging
Personalized messaging is a must-do in today's competitive market. According to the business advisory firm McKinsey & Company:
71% of consumers expect personalized interactions from businesses
76% get frustrated when marketing is too general
72% expect businesses they patronize to recognize and cater to their interests
78% would repurchase more often if brands gave them personalized recommendations
Traditional advertising can't keep up with these expectations. Whether running a radio ad or sending out a mailer, you can't base those messages on people's behavior or preferences.
Online marketing lets you target your promotions and messages to your buyers' interests. You may have seen this in action as a consumer — perhaps as a website ad for a product you've browsed or an email with products similar to the one you just purchased.
These strategies are possible thanks to customer segmentation. When you segment your audience, you divide it into interest groups that receive different promotional material.
Suppose you own a beauty salon. You'd promote your wedding services to a different audience than your children's haircuts. If someone bought frizz-taming shampoo last week, you'd want to ensure they saw ads for similar products.
Data makes this level of personalization possible. Some of that data comes directly from customers, like when they sign up for your email newsletter or enter their information in exchange for a discount code. Some of it comes from digital ad systems like Google Analytics.
You can use online marketing tools to collect, process, and apply that information.
The better you get at this digital personalization, the more revenue you can earn. According to McKinsey data, top-notch personalization drives 40% more revenue than average customization. Your first step is to find a partner like Redstitch Digital that has the advanced tech to make the most of your information.
4. Stronger Customer Relationships
Absence doesn't always make the heart grow fonder. In brand-consumer relationships, a lack of contact leaves room for your competitors to pass you.
Imagine you have two neighbors. One introduces themselves when you move in and then retreats into their home. You never see them again. The other knocks on your door once a week — asking how you're doing, bringing you soup if they know you're sick, or offering to walk your dog when you're away.
After a year, which one do you feel more connected to?
It's the same with your customers. When you check in regularly and let them know you're there for them, they're more likely to feel you care.
Online marketing lets you maintain those personal touchpoints. Traditional marketing can't. Traditional ads are one-size-fits-all messaging, and customers know it. If they see a billboard asking, "Is your home warm enough?" they know the heating company isn't talking directly to them.
Digital messaging feels more one-on-one. With online marketing tools, you can reach out with:
Automated purchase-related messages like abandoned cart emails or post-purchase follow-ups
Email newsletters with product updates, sale announcements, etc.
Text messages containing coupon codes for products
New helpful content (blog posts, videos, infographics, etc.)
The more personalized these messages are, the better. For example, if you just published a blog post about what cuts flatter older women, you'll get more engagement by promoting it to your female clients over 50.
5. More Control Over Reviews
Online reviews make a big difference to consumers. According to BrightLocal, 77% of consumers regularly or always read reviews when searching for a local business. Only 2% never read them.
Even if you don't do online marketing, people can still post and read about you online. Customer review websites like Yelp and Google allow consumers to review "unclaimed" businesses — those the business owner hasn't registered as theirs. Unless you monitor and engage with those reviews, you can't control the message they send. It's the equivalent of asking someone off the street to write your radio ads.
Digital Marketing and Review Management
Online marketing puts you back in the driver's seat. First, it lets you create an online presence that you control. A Google search will reveal not just your customer reviews but also your website, blog, search ads, and anything else you put out there.
An online marketing strategy also allows you to track and respond to reviews. BrightLocal reports that 89% of customers will likely buy from a business that responds to all reviews. More than half are unlikely to use a business that doesn't respond.
People read review responses to evaluate your customer service. If you don't respond, they can easily assume you don't care (which you do). It's important to thank people who leave positive reviews and follow up with negative ones.
Responding to Positive vs. Negative Reviews
Negative reviews aren't as bad as you might assume. Customers know that no business is perfect, so they expect to see a few criticisms. They use those criticisms to understand your product's or service's potential downsides and whether they are deal-breakers. They also look at how you resolve issues.
Think about the last time you made things right with an unhappy customer. You listened carefully, expressed regret, and came up with a solution. When you respond to online reviews, people see that process firsthand.
You don't have to resolve the problem online. Offer a customer service number or email and invite people to get in touch. Tell them you're committed to making it right.
Review management also lets you make the most of your positive reviews. You can highlight particular compliments — for example, Thank you for your kind words about our fresh ingredients! We source from local farms and are glad to hear that it makes a difference.
You can also select your best reviews and add them to your website as testimonials. If you have many positive reviews, these highlights can include a link to the original review site where people can read more.
6. Cost-Effective Outreach
Traditional marketing is notorious for its high costs. In the 2019-2020 advertising season, marketers spent nearly $19.50 per thousand viewers to run cable TV ads and just over $36 per thousand viewers for national broadcast TV. For Google Display Ads, the cost per thousand viewers (CPM or cost-per-mille) is just $3.12.
The difference exists because traditional ad space is limited. There are only so many TV channels, radio stations, or billboards in a town. No such limit exists online.
Also, digital ads rarely require up-front payments. For example, Google Ads charges you per click and bills you regularly based on your balance. Most digital ad systems work on a similar "advertise now, pay later" basis.
Because you pay for digital ads after they run, you get feedback almost in real time. You can look at an ad's performance and change your plan if it still needs to get the desired results.
7. Flexible and Responsive Marketing
When it comes to calculating return on investment, traditional marketing has a slow turnaround. You buy an ad, wait for it to run, then see if your sales go up.
It's inefficient whether you do well or poorly. If your ad performs well, you miss the chance to capitalize on its success by shifting your marketing dollars in that direction. If it fails, you can't change it until the next round.
Digital advertising is different. If a campaign needs to be more effective, you can make changes until the ad or content hits its mark. You can even test an ad's effectiveness on real-life audiences.
A/B Testing for Digital Marketing
A/B testing is a marketing strategy that tries out two versions of the same ad or content. You can use it in traditional media, but it's more prevalent in online marketing because you can quickly apply changes.
Marketers use A/B testing to see which version of an ad gets better results. The two versions can be drastically different or almost identical, with only a few differences. You make the more effective option permanent, then run the ad again.
For example, Wordstream recently used A/B testing to evaluate two calls to action. A CTA prompts the user to take a particular action, like Buy now! or Learn more. The team analyzed the results, chose the more popular option, and doubled the campaign's click-through rate.
Fast-Track Your Business With Online Marketing
By investing in online marketing versus traditional media, you can reach more people and pay less for it — and you don't have to go it alone. A digital marketing agency like Redstitch can help.Redstitch Digital helps you accomplish this goal with advanced technology. Find out how our state-of-the-art tools let us design a customized digital marketing strategy unique to your business.